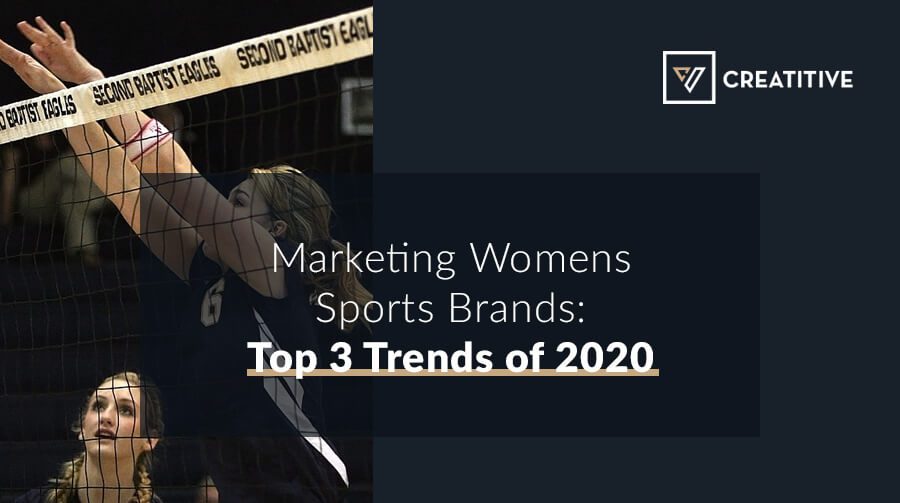 2019 was a monumental year for the women of the world. From a historic group of women entering the 116th Congress, the US Women's National Team winning the 2019 Women's World Cup, NASA completing it's very first all-female spacewalk to women's sports brands changing the sports market — the greatest ladies from all around the world dominated 2019.
More specifically, female sporting had a lot of major moments this year, empowering female athletes. And with this sudden surge of girl power in different industries, the retail market grabbed the opportunity to praise the powerful women of the world by dedicating high performance capsule collections to them.
Game Changing Females
In the previous year, the women's sports apparel market was valued around $26.8 billion according to Euromonitor International's data — and this is in comparison with the total $80.1 billion value of the general sportswear market.
But unlike the men's sportswear market led by Nike, Adidas, and Under Armour, brands like Lululemon, Sweaty Betty, and Outdoor Voices dominated the game by offering casual workout clothes and other gym gear. Researchers believe this is because women want functional products that are meant for the female body. And because sportswear, in general, are traditionally designed for men, female-focused manufacturers became women's new best friends.
It didn't take long enough for major activewear brands to see the endless growth opportunities and soon enough well-known brands like Nike and Adidas to join the athleisure movement.
The Athleisure Movement and Yoga Pants
Underneath all the success of the female sportswear market is a movement led by fashionable leggings and sports bras; athleisure.
Wikipedia defines athleisure as a style of clothing that can be worn in both in athletic settings and other normal occasions. Women's need for fashionable gym gear paved the way for this movement and one great successful example of the athleisure movement is Lululemon.
The female-led sportswear brand has built a luxury athleisure brand through $100 yoga pants and yoga classes. As a matter of fact, it beat Nike in terms of growing in 2018 and experts predict that Lululemon could beat the sportswear giant someday — though it's unsure when.
Fashion and luxury consultant at Euromonitor International, Ayako Homma, revealed that health and wellness has become a new luxury for women. Nowadays, they are investing on gym memberships, workout clothes and footwear. But because a large majority of working class females don't have the time to change at least four times a day, they don't mind spending more on fashionable pieces that they can use in their everyday lives.
And due to the increasing demand for athleisure, other product categories have pursued it as well. Homma emphasizes that the movement is no longer a trend, it has become a norm for almost everyone — including men as well.
With a very saturated market, it's important to make sure you know how to market womens athletic wear brands the right way.
Trends of 2019
Though a new decade meant new trends to watch out for, nothing prepares you better than learning what worked and what didn't work for 2019!
Content, Content, Content
Experts have said it before and they'll say it again, content is king. Content marketing has cemented itself a staple marketing strategy for different industries. Though it's admittedly a long-term strategy, it's a fool-proof way of establishing your brand's presence in the market.
For instance, aside from their well-known yoga pants, Lululemon is a trusted source for mindfulness guides and other yoga related content. And the main reason why customers trust them and see them as an expert in wellness is because they consistently release well-produced content!
Women love buying from brands that they trust and the more you offer them free high quality content, the more they trust you. Furthermore, having a library of free content is a great way of attracting and earning new leads. For example, if a young woman is interested in changing her lifestyle for the better, your website can provide her easy yoga sessions. Sooner or later, when she starts her journey, she's likely to remember your sportswear brand and is likely to purchase some of your products!
Nowadays, trust is one of the most valuable currencies between consumers and marketers. Hence, it's only apt for new businesses to start building trust through insightful content! Additionally, having enough blog posts and other content can help your brand in your SEO campaign — but that's another topic we can discuss later on.
Instagram and The Celebrity Lifestyle
One great way celebrities and other influencers connect with their fans and the general audience is through social media. Be it on Twitter or Instagram, big stars like Beyonce and Kanye West love raving about the things they love like their favorite restaurants and even their favorite clothing lines to their respective fanbases!
A great chunk of the success behind women's athleisure brands can be traced back to celebrities and other influencers sharing their products via Instagram. This is because 38% of the retail decisions of the younger consumers are affected by what they see in social media. Furthermore, 60% of Instagram users use the mobile app to look for new products.
If your brand already has existing social media accounts but are unsure of what to do with it, sports marketing agencies offer social media management services that can help you cultivate lasting digital marketing campaigns.
AI And VR
Hearing the words Artificial Intelligence and Virtual Reality can be a bit intimidating, but there's really nothing to worry about. Both new technologies have long been integrated into the marketing strategies of a number of brands. For example, Nike used chatbots to promote their Jordan brand.
Nike used AI to deliver content to their audience with the help of Facebook's messenger. Their digital team saw an opportunity on two-way conversations between consumers and made use of it to share blogs, news, and other weekly updates. And using specific phrases, the AI led consumers to different pages of their websites.
On the other hand, VR helped busy women try items on before making a purchase! Undoubtedly, there were a lot of second thoughts on the use of VR and AR. Mainly because it often didn't come with an affordable price when it was first launched but marketers saw a demand for it in the sportswear market.
For example, online shops admitted they had a hard time reaching high CPAs because certain customers would purchase a product in different variants and end up keeping one thing. Thankfully, Virtual Reality has made it possible for consumers to try on clothes, shoes, and other items before picking the right product.
Women Are the Future
Market leaders predict that the female presence in the athletic retail industry is expected to expand further as the new decade comes but despite this, a lot of brands are still having a hard time finding their footing in promoting women's sports brands.
Nevertheless, it's not too late for brands to reform their respective retail sports marketing into a female-centric campaign! With enough goal setting and the help of sports marketing experts, you'll surely catch the hearts of our powerful ladies.