It should come as no surprise that sportswear is one of the most popular types of clothing on the market today. After all, it's comfortable, people like representing brands they love, and it's got a massive celebrity following. But if you're developing your own line or working to sell products online and compete with other companies, you need to understand the trends in sportswear industry growth and success.
Here are some of the most surprising global sportswear market trends to implement in your brand.
Embracing Athleisure
Athleisure clothing is quickly gaining traction as one of the preferred clothing types on the sports apparel market, developing a competitive landscape at its wake. A quick market research will reveal that the athleisure sector's market share is growing at increasing speeds, with North America leading the game.  Why? Because younger buyers want to look active and youthful at all times. But what sets it apart from other clothing types is the flexibility it offers.
With casual dress codes becoming the norm, many athleisure pieces turn into daily wear for consumers. And when it's your brand, they're promoting it every time they wear your products. The more you can get your stuff out there, the better off your brand will be.
Networking with Other Brands
As with all businesses, networking is key. And it's rapidly developing into a dominant sportswear trend. Brands partner with sports teams or other product manufacturers to jointly release new athletic wear.
This helps get your brand in front of a wider audience while also developing long-term connections and relationships with others in the industry. You might just gain a larger audience by following sportswear industry trends like this.
Riding the Green Wave
The most long-reaching trends in sportswear industry development and the sports apparel market, in general, relate to eco-friendly technology. And brands that make the pledge to ditch environmentally harmful materials or manufacturing processes seem to be attracting new and repeat business every quarter. Today's market research reveal that a large market share of the industry belongs to green athletic apparel brands.
This is because consumers are rapidly becoming more eco-conscious and actively look for brands that live up to their personal ideals. They're not afraid to ditch a clothing line because they disagree with their practices.
Size Inclusivity
When the sports apparel market first started, there's limited room for size inclusivity. Clothes were often created for the smaller sector of the market size and those with larger sizes, unfortunately, had trouble finding brands within the sportswear market that catered to their needs.
But now that demands have grown and the sector is expected to grow further in the following years, the supply chain has evolved! Major brands are creating new products that accommodate everyone across all clothing sizes—with a global market catering to plus-size consumers rising. Key players are taking into account how the sportswear market could promote fitness activities by offering more clothes meant for everyone!
Growing Demand in China
Over the past years, China's fashion trends have increased the demand for athleisure wear, making it one of the hotspots for the sports apparel market. The growing interest in the market is a new development for the country and business experts have said that sales for sportswear have grown significantly faster than luxury goods over the last five years.
And with more demand expected from the country, as well as the Asia Pacific in general, brands can expect large opportunities for their business!
Personalized And Smart Clothing
Thanks to the latest advances around clothing production, brands nowadays offer more customization for consumers — even smart clothing! Recent market research has revealed that sports brands are using their websites as avenues for customization, with Nike leading in the field thanks to its wide range of customizable shoes.
Additionally, the market growth for fitness technology has lead to major developments in smart clothing. People now have the chance to use their sportswear to monitor their health and wellness, so much so that there are now clothes that can actually track the end user.
Growing Yoga Culture
If you think that yoga's share in the sports apparel market has stopped growing, think again. Recent market research revealed that searches for yoga clothing grew in 2020 and sales of products related to the workout routine have increased by 42%.
While demands might have changed in terms of color options, the market growth remains to be as strong as ever. And with recent events leaving more people with more time on their hands, experts believe that the yoga culture will continue to flourish in the coming years.  
90s Comeback
There's no denying that significant 90s trends have definitely made its comeback in the retail industry—and the athleisure line wasn't able to escape the trend. Recent athleisure lines have released items based on popular 90s clothing items like color-blocked windbreaker jackets.
Take, for example, Columbia who recently released their own line to pay homage to the 90s. All the while other companies are testing out different fit pieces.  
What is the role of sportswear in the industry?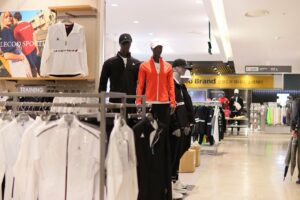 Walking down any street in any city in the world and you will see many people that look like they are going to go to a yoga class, a spin class, or a specialty gym. It's becoming more and more common for athletic apparel to be worn by young consumers.
Athletic wear has become very popular in recent years, especially in the North America. This is due to the fact that more and more people are aware of the importance of good health. In addition, there is a growing middle class in developing countries that is interested in sports and is taking part in them. This trend is known as athleisure. Just as personal trainers and sportswear have become status symbols, sports-inspired clothing has become a status symbol as well.
Growth is also being fueled by innovation in the materials used in sport's shoes and other athletic footwear, as well as by the continued specialization of consumers in the purchase of activity-specific footwear for running, tennis, hiking, and other activities. The emergence of wearables, which can be incorporated into clothing, is likely to spur consumer interest in the future.
Athletic wear is a bright spot in an otherwise troubled industry
Athletic apparel in the Asia Pacific is one of the fastest-growing segments of the global sportswear market, but it is also one of the least profitable. This is due to the fact that it is relatively easy to design and manufacture basic athletic apparel. This makes the industry highly competitive, as there are many different companies in the sports apparel market.
It is not surprising that the industry is dominated by a few large companies. That could worsen in the coming years as profit margins are squeezed by rising labor costs in the Asia Pacific.
The fashion industry is constantly changing, so it's important to keep up with the latest fashions in order to stay competitive. If a company doesn't keep up with the latest international trends in the sports apparel, it will likely be overtaken by the competition.
Want to keep your business on the cutting edge of fashion? You need to keep up with the ever-evolving demand of consumers.
Meanwhile, athletic apparel retailers – those with stores in malls and shopping centers – are facing a threat from online shopping. Consumers are increasingly choosing to shop online, and this trend is likely to continue. Mall traffic has been declining for years, and this trend is likely to continue. You need to be ready to change with the times and keep up with new trends.
Achieving scale is a key advantage in the popularity of sports apparel
Athletic clothing, on the other hand, has a much higher barrier to entry than other types of clothing. It requires a lot of time, effort and resources to create a high-quality product. The footwear industry is highly specialized, with only a handful of companies in the world that make footwear. That's an advantage to established brands, which have a large volume of sales because they have the capacity to produce limited quantities.
A company's marketing strategy should include a strong focus on developing a strong and effective brand. Companies that have been around for many years often have a strong and well-established brand. It is not uncommon for a new company to find that they do not have the resources to acquire the right endorsers or sponsors.
Athletic brands have the advantage of being able to offer their products at lower prices than other companies. They also have the advantage of being able to offer their products at lower prices because they are in a position to offer them at a lower price because they are in a position to offer them at a lower price.
Clothing is one of the most popular products in the world, and it is also one of the most expensive. The growth of the economy and the increase in consumer spending is closely linked to the growth of the apparel industry.
Over the long haul, sportswear will likely play a significant role in the consumer wardrobe. The rise of the youth and the desire for a more casual lifestyle are two of the most significant trends in the industry today. There are many great companies in the industry that have the potential to make a mark in the future. So you should not be afraid to look for opportunities to invest in them.
You need to keep in mind that the industry is constantly changing, so you provide an excellent opportunity to identify those companies with superior long-term potential.
The importance of sportswear to people
When you are working out, it's a great idea to wear clothes that can keep you warm and dry, so make sure to choose clothes that can keep you warm and dry as well. There are many styles of clothing that can be used for different activities, such as running, cycling, soccer, basketball, volleyball, and many others. Individuals, especially ladies, who are unhappy with what they're wearing to the recreation center are less inclined to participate in strenuous physical activities, thus ruining their development. One should feel great in their sportswear.
Schedule a Consultation
Staying on top of today's global sports trends is just one part of becoming one of the key players of today's competitive industry. Schedule a consultation with our team and see how an experienced pro can help you grow your brand and improve your reputation.