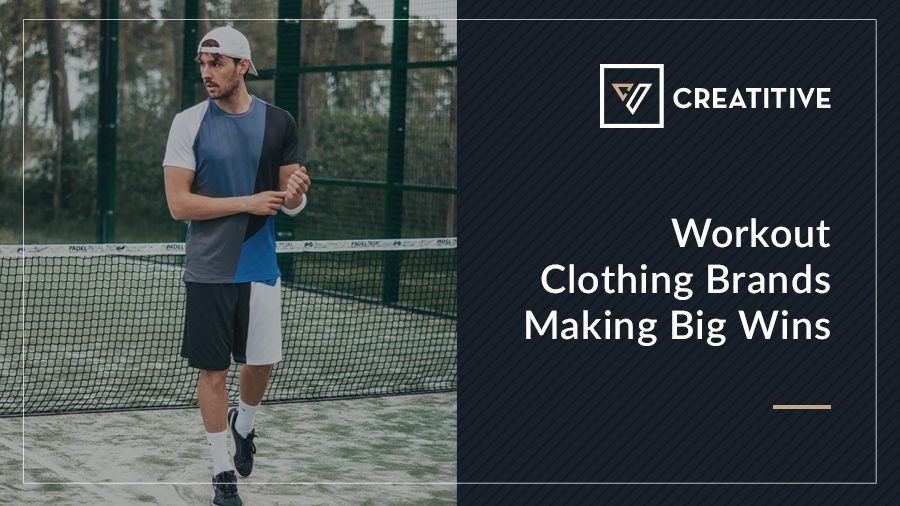 When starting a brand-new activewear company, the foundation is the first thing to consider. Most branding specialists suggest focusing on the brand identity —which includes visual elements, the brand's mission & vision, brand voice, and brand personality—and after this, they recommend making sure all the products you develop —such as gym shoes, sports bras, tank tops, yoga trousers, etc. — tell your brand story through a unique logo.
A memorable workout clothing logo can boost your brand awareness and drive new customers daily by telling your brand story.
Let's explore three brand reasons why gym clothing brands' logos are essential to market domination.
Brand positioning Defines Your Reputation
Brand positioning is what customers think of when they see your brand. It's how you want them to perceive you and what differentiates you from other brands and improves your performance. In simple words, it's your brand reputation.
But what stands out your activewear brand in a crowd of competitors? It's your brand positioning. It differentiates you and adds value to your products.
What Brand Positioning Strategies Did Nike Use?
A Clear Vision for Something Greater 
Making Customers THE heart of the Brand
Understanding Customer's high-expectation
Craft a one-of-a-kind logo and tagline
Brand Identity Strengthens a Company's Popularity and Makes It Stands Out in a Competitive Market
In the sportswear market, brand identity is your business fingerprint with many different visible elements, such as color, design, and logo. When integrated at all levels, your clothing brand will stand out from hundreds of activewear brands.
Sports marketing and SMS marketing are crucial tools to build a solid brand identity, which boosts sales and more successful product roll-outs. Social media is also a powerful tool for achieving brand identity. On these platforms, you can showcase a full range of goods and products —such as new sneaker releases, sports bra discounts, compression wear, water-resistant jackets, moisture-wicking sportswear, etc.
Thanks to its brand identity, Lululemon has a crowd of loyal customers who love its stylish and comfortable women's thermal compression tights, athletic sports leggings, and running pants. Lululemon outlines its values, mission, and vision in its manifesto innovatively and playfully. Their communication strategy makes Lululemon's identity resonate within their community, driving sheer joy and a sense of belongingness to their fanbase.
A brand's identity is key to producing high-quality accessories for people who love going to the gym. In today's world, an athlete needs passion, discipline, and grit to keep up their lifestyle. There's a huge range of activewear brands to use. Make sure your gym shoes, cutting-edge technical fabrics, clothes, sports bras, protein powders —or whatever you sell— meet athletes' expectations. A solid brand identity leads to designing meaningful logos athletes love to carry over at the gym.
Building a strong visual identity for a brand requires careful planning and execution to ensure that the image conveyed is aligned with the brand's values and message. For instance, Nike —a one-in-a-million clothing brand— crafted their one-of-a-kind "swoosh," which is deeply connected with its brand voice and identity.
According to Greyser and Urde, there are three elements involved in Brand Identity: internal, bridging elements, and external. You can build a solid brand identity if you integrate them efficiently. Then, your company will express itself through marketing materials, images, colors representing the brand, and presence on social media. A strong brand identity strengthens a company's popularity and makes it stands out in a competitive market.
Your Values, Aesthetic, & Purpose
How your clothes look —what we call the brand aesthetic— sends a message about your project's mood, tone, and style. It's a way of ensuring your social media channels communicate the same message and personality. Consistent branding may increase revenue by 23 percent, but research shows that less than 10 percent of businesses have a uniform brand representation.
Aesthetics play an important role in recognition. With so many brands on the market, nearly 60 percent of consumers prefer to purchase from brands they are familiar with.
Creating a brand identity that reflects your values can make a strong connection with your customers and help you stand out against competitors.
Being true to your values, providing an excellent customer experience, and showcasing your brand achievement across all platforms will boost brand awareness.
Workout Clothing Logos Makes You Worldwide Recognized
A logo is a must for activewear brands. An eye-catching logo makes people fall in love at first sight. That's why you must put enough effort into designing a memorable logo. It can make your clothing brand remembered and recognized worldwide.
Think of your logo as a versatile communications tool in a huge range of branded products —such as dress shirts, sports bras, and other accessories. Because it is so visible, a logo is essential to reinforce a brand's message and values to critical audiences and potential customers.
Brand Logo is the Foundation of Your Brand Identity
As previously said, logos are an essential part of brand identity. A logo is vital for brand awareness and reputation. Customers may also be more loyal to your activewear brand if you use symbols that relate to their values, life experiences, and passions.
Why is your brand's logo important?
Let's dive into some reasons why logos are essential in activewear brands
Grabs Attention
In a competitive market, compelling logos must communicate your brand identity, ethos, and core values — in the blink of an eye. With consumers' short attention spans, you only have 2 seconds to convince them that your products are worth their time.
An eye-catching logo can quickly grab viewers' attention and make a long-lasting impression. So consider the power of a strong visual identity for your business.
sets the stage for your storytelling strategy
The foundation of your brand identity will set you apart from the competition. It's the bedrock upon which you'll build all future marketing initiatives, so take the time to get it right. Work with a professional to ensure that your foundation is strong and will support your future efforts.
Think of your logo as the foundation of your brand's narrative. The color, tones, and fonts set the stage for your storytelling strategy.
These elements will carry over onto several branding materials, like their letterheads, business cards, and landing pages. In other words, a logo is critical in helping create a concrete and marketable brand identity.
Makes a memorable First Impression
A logo is a brand's first encounter with a customer. A creatively designed logo can drive traffic to your website, inviting the audience to learn more about your product or services.
A memorable first impression is an excellent way of connecting emotionally with the audience.
builds Brand Loyalty
Your brand's logo is one of the essential elements of consumer trust and loyalty. A well-designed logo that is easily recognizable can make all the difference in whether or not someone chooses your product over another.
Nike is an excellent example of a brand that has built consumer trust and loyalty through its iconic logo. When shoppers see the Nike swoosh, they know they're getting high-quality apparel they can trust.
Once they like you, your customers will seek you out again and again – and your logo is the thing they'll look for first.
Separates You From a crowd of competitors
Dare to be different with your logo because your company logo tells consumers why your business is unique. There may be 50 other coffee shops in your city, but yours is the only one committed to sustainability, and your green, earthy logo drives that message home.
A well-designed company logo can communicate everything from the company's background (professional, relaxed, fun) to its mission (entertainment, efficiency, and innovation) through the right icon or proper font.
In other words, your logo is the forum to convey your values and show consumers why you're not like your competitors – you're better.
Helps to Build a Long-Lasting Memory of your Brand
You'll want people to connect your logo with a delightful memory instantly. It should trigger a positive recall of your brand. And although some fans may forget the name of your business, most likely, they will always remember your logo.
Timeless Designs & Story
Brands spent over a year creating the firm's logo to ensure that the name and brand story was perfect. Once I had those two elements down, the logo came together quickly. If you're starting a business, focus on the brand story first. Everything else will fall into place after that.
The psychological associations of shapes in logo design are essential to understand when creating a logo. Geometric shapes are often seen as solid and stable, while natural and warm organic conditions. Abstract forms can be interpreted in many ways, so choosing an abstract form that fits the logo's overall feeling is essential.
Font & Personality
When choosing a font, it's essential to consider the psychological impact the shape of the letters will have on people.
The emotion generated by the font is directly tied to our psychological response to the shapes, so you want to be sure that your company name is legible and readable. Many logos are difficult to read, so it's essential to consider how people will remember your business if they can't read the word.
Fonts are another critical element of branding. Wherever a brand uses text, like in its logo, on its website, and as part of an email template, the font used for that text isn't random—you should select it carefully to communicate the brand's personality and values.
For example, the Software Usability Research Laboratory (SURL) at Wichita State University ran a study that examined the traits people associate with varying fonts. Among the people surveyed, traditional fonts, including Arial or Times New Roman, were categorized as "stable" and "mature" but were also considered "unimaginative" and "conformist." Different fonts will be more or less effective depending on the message a brand is trying to communicate.
Your brand is more than just a logo or color scheme- it's the image your business projects to the world. So, what impression do you want your businesses to leave on your audience?
If you need help personifying your brand, consider using your typeface, colors, and imagery to get an idea of who the brand is. Then, take it a step further by enhancing that visual representation with your tone of voice. Are you a confident business with a lot of sass, like Nike? Or are you luxurious and professional, like Givenchy?
Regardless of your route, remember that developing your brand is a way to represent your business as a whole. So please put some thought into it! And although research may be tedious, it'll be worth it.
Ultimately, the more robust your brand identity is, the better.
Clothing Design & Brand Design
Branding design is all about representing a company's identity to the world. Interdisciplinary teams carve out a logo, color scheme, typography, and other design elements that make a brand unique and recognizable.
Branding design also encompasses how a company presents itself online and in physical spaces. It could be through social media, store design, or even the interior design of company offices.
A brand's design is one of the most critical aspects of its identity. It should ideally represent the personality of the brand and its values and be a powerful tool in shaping consumer attitudes. A memorable logo or catchy color scheme can leave a longer-lasting impression on consumers than any big-budget ad campaign.
Designing clothing is about finding new ways to improve or change existing designs to suit a specific purpose better. This process includes choosing the right style, color, and performance fabrics to achieve the required function of the piece.
Activewear Brands Making Big Wins Thanks to Their Unique Workout Clothing Logos
Adidas
Adidas is a multinational corporation that manufactures stylish athletic wear, footwear, and other fashion accessories. Today, it is one of the world's most successful and influential German brands. However, its success didn't happen overnight.
Adidas follows a digital marketing strategy to maintain its power, including being active on social media and collaborating with body fitness influencers, especially on Facebook, Instagram, and YouTube.
Adidas has built a solid and distinct image for its products through user & benefits-based positioning, which is a vital part of its marketing strategy. This strategy has resulted in significant sales numbers for the Business.
The unique selling point of Adidas is its ability to develop lightweight and comfortable sports clothes, which other competitors have been unable to do. Based on this, Adidas customers have deep trust and value for its products and services, which has helped the brand expand on a broader scale.
ASICS
Asics is a well-known sports clothing brand whose blue-colored, fancy yet subtle logo has been one of the most consistent in the activewear industry.
The innovative athletic lifestyle footwear ASICS offers is a perfect combination of sneakers, shoes, and streetwear. Its high-quality design, creative, cutting-edge technology, and new look refresh the company's product line.
A large chunk of the promotional budget will go towards digitization and online marketing because that is where the target market can most easily reach.
Promotion is just publicizing a product. Therefore, this marketing campaign will be critical to social media, celebrity endorsements, and social initiatives for the development (of gym clothes)
Reebok
Border-pushing Brand Reebok is a subsidiary of Adidas. This company aims to be the most effective fitness brand worldwide. Those with active lives become more active physically, mentally, and socially.
Shoes are leading the way with styles such as the Nano, Club C, Floatride Energy, and Insta pump Fury finding their way to a massive range of iconic Reebok designs. Afterward, clothing the best-selling items feel elegant and well-made and suit a variety of athletic activities.
Nike
Nike is a well-known sportswear brand, and they have been using multifaceted marketing strategies to build its identity for a long time. However, product positioning is the one element that plays a fundamental role in their system strategy.
It offers an extensive range of goods, including best-sellers like t-shirts, socks, bike shorts, sports bras, seamless leggings, tank tops, protective wear, tights, hoodies, see-through, and other sports-related wear. Additionally, it creates products, especially for Converse and Jordan.
Nike has been successful in the past by understanding the importance of storytelling and using this technique to cultivate customer loyalty and grow brand awareness. By basing its foundation on elements relevant to its target consumers' aspirations, goals, and lifestyles, Nike can quickly develop ideas for stories that will resonate with them.
Nike has always been a front-runner in reaching its target market, and with the rise of social media, it was only natural for the brand to want to connect with audiences through these channels. Nike knew they needed to establish a presence on social media to gain brand recognition as quickly as possible.
Lululemon
Lululemon is a company that is the most well-known modern-day athlete with high-quality body fitness gear. They set themselves up for success in many ways. For example, they asked a yoga instructor to test their equipment and give feedback. Lululemon's marketing strategy is active and includes content across many platforms, with their primary regional accounts highly functional.
Lululemon does things a bit differently when it comes to marketing. Most brands would start with a product and then try to find ways to get people to buy it. On the other hand, Lululemon does extensive research on its target market and potential customers.
They figure out what trends are popularly worn, called fashion and what consumers look for before releasing a product. This allows them to be highly reactive to changes in the market and create products that their customers will love.
Why do these vibrant yoga fabrics have high prices than other brands? It all comes down to the little things that make Lululemon a unique, high-end brand. Much more money is needed to develop specialized proprietary textiles and produces high-quality, long-lasting clothing, and much more money is required.
Puma
At its core, Puma is a German brand that believes in the power of sport to change lives for the better. They are all about being bold, confident, and driven and constantly striving to be at the forefront of innovation.
Puma knows they need to stay ahead of the competition to succeed. This is why they use a mix of demographic, geographic, and psychographic segmentation strategies to understand the changing needs of their customers.
Using a differentiated targeting strategy for different product categories, Puma can develop products that resonate with its target audiences.
Outdoor Voices
Outdoor Voices is an exciting and ground-breaking activewear brand in the industry, amongst other activewear brands, based in San Francisco. Since the beginning, its athletic wear has been known for its products' quality and branding. The root cause of its success is its innovative and effective branding strategies. Its tagline, "DoingThing," encapsulates Outdoor Voices' approach.
Outdoor Voices also features a shoppable Instagram page and a compelling website, which utilizes UGC to showcase different products and promotes the hashtag #DoingThings. Clicking a photo brings up the related product, which users can click on and be taken to the product page.
CONCLUSION
The sports industry is full of logos. From a branding standpoint, a logo is more than a graphic representation of your brand; it is the foundation of your brand identity: what people feel and think when they see your products, an emotion, a sense of belonging they embrace whenever they make a purchase decision.
Please ensure these three brand insights are part of your marketing strategy and let our experts help you design a memorable logo. Contact us today for more information. This way, you can turn a potential customer into a loyal fan, a satisfied customer that will choose you over millions of competitors.