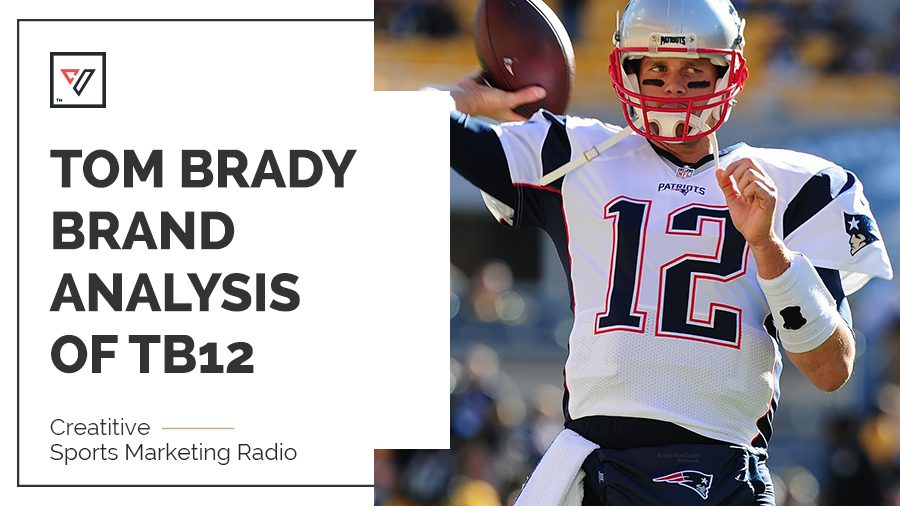 Athletic Brand Power Analysis – Tom Brady's TB12
Tom Brady's success as a powerful branded athlete is no secret. As the first and only American football player to win six Super Bowls, Brady has secured his position in sports history and is regarded by many to be one of the most legendary players of all time.
But perhaps what's most astounding about Tom Brady is that his success transcends beyond his performance on the field. He's also a shrewd business owner. Brady is the founder and owner of TB12, an innovative athletic brand focused on nutrition and exercise programs.
But does the brand power of Brady's growing business compare to his personal brand and image as an athlete? If Brady wants his business to become to one of the top athletic brands, he's going to need a powerful digital strategy. So, we decided to investigate the matter further. Here's the detailed report from Creatitive Sports Marketing Radio on Tom Brady's athletic brand power analysis.
The Brand Power of Tom Brady & TB12
Strengths:
Leverages his personal social media accounts to promote his business. (Brady began doing this right away, using one social media account to promote the next, and eventually using Instagram to promote his athletic brand.)

Creates compelling social media content and speaks to fans in an authentic way. Gives them access to details about his personal life.

Iconic and memorable logo. This athletic brand chose a logo with a simple, yet creative design that features one eye-catching color. This color is the same one used by the New England Patriots, leveraging their brand to grow his own.

Colors and call to actions are consistent on website.

The athletic website loads quickly, has high resolution imagery, and was created by a talented developer.

Website has excellent content and is consistent with brand.
Opportunities for Growth:
Logo is hard to read on media. It's difficult to understand that the logo represents Brady's company and not just his uniform number.

Uses multiple fonts on the TB12 athletic website. We recommend sticking to only two.
User experience on website is lacking. It's difficult to identify the purpose of the website and what the products are. It's hard to tell whether Brady is selling products or services.

SEO needs improvement. There's no local SEO or information on his local services.

Website does not have a PPC campaign, which is important for an ecommerce site.

Brady may benefit from using his personal social media pages even more to promote his athletic brand.
Brand Power Analysis Score
We rated Brady's athletic brand based on its performance in five distinct categories.
Logo – 3 out of 5
Website – 2 out of 5
Online Content – 2 out of 5
Social media – 5 out of 5
Overall score: 12/20
---
Brand Recommendations
Overall, we found TB12 to be a powerful athletic brand. However, our experts agree that there are still many opportunities for improvement. Here are a few strategies that Brady can use to make his company one of the top selling and most popular athletic brands.
1) Increase recognition by improving the logo.
Add the company name to the logo for athletic brand power.

Focus on improving the way the logo looks on media and collateral. Make it simpler and easier to read so that it looks better on smaller formats.
2) Focus on the user experience of the company's website.
Take a step back and create a new site map.

Do keyword research based on the site map and new pages.
3) Improve online presence by focusing on paid advertisement, SEO, and local SEO.
Create website content focused on SEO and local SEO.

Leverage Brady's career as an NFL player for the New England Patriots in Foxborough to improve local SEO.

Create paid advertisement campaigns to boost sales and improve search rankings.
TB12 is already well positioned for success. But by taking the steps outlined above, Brady will be able to significantly increase the growth of his business and rise above the competition to make TB12 one of the top athletic brands
External Links: Tom Brady Image