A recently released IHRSA report has revealed that the overall revenue of the fitness industry has grown to $94b in 2018 from 2017's $87.2b — not to mention that its growth rate has increased to 8.7% globally and is predicted to continue to grow in the next few years.
The outstanding numbers suggest two things, great success and greater competition. With at least 210,000 clubs globally and 183 million members, the rivalry between providers can reach great lengths. It's not just enough to be distinctive, gyms and other fitness clubs are now fighting for visibility, prominence and loyalty. Your brand may offer benefits that are unique to other providers but it won't mean much if nobody sees it or if your clients constantly switch to other fitness classes.
Lucky for brands of today, the emergence of technology has opened up the doors to more engaging marketing strategies. The digital age has provided brands with multiple channels that can be used in reaching out to audiences in the most convenient ways — coupled with traditional promotion, you can create the perfect formula for creative ideas in marketing your gym!
The Old and The New Gym and Fitness Marketing Ideas
A lot of fitness centres have gone above and beyond in marketing their brand and you can take that same path too — but with a different set of tools.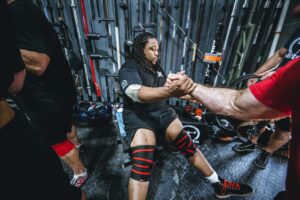 Some of the more traditional promotions used by gyms are referrals, summer campaigns, weight loss challenges, reward programs and more. Though it's undeniable that though they may seem outdated, they have fared greatly over the recent years — and if you mix fool-proof ideas like the ones mentioned above, you can deliver great benefits to your audience easily!
For one, you can mix both weight loss challenges and summer campaigns into one Facebook promotion by creating a Summer Slimdown program! You could offer a special schedule that is different from your regular class hours and pair it with competitive special prices for a certain period of time. This strategy is great for inviting new members in and giving them a quick peek at how your programs usually go. Such special trial programs can also work for the new year.
Your gym's social media accounts on Instagram and Twitter can be used to market flash discounts and even contests to catch people's attention! Nowadays, a lot of brands are putting much thought into their social media campaigns with the knowledge that most of their customers and possible clients spend most of their time there. From sharing motivating workout videos to inspiring stories of clients — much of their promotion is now heavily tech-influenced.
You could also start your own trends as fitness marketing campaigns. Do a fitness challenge in Tiktok, promote a free membership, and invite people to visit your gym!
Use these two marketing ideas: blog content marketing and social media posts to promote your gym! These two marketing strategies could be an avenue where you tell your gym members of your personal training experience, how you manage your fitness business, a probable story of weight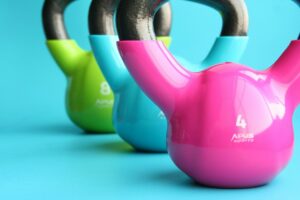 loss, upcoming training sessions, updates on your fitness studio and more. You won't just be promoting your gym as a marketing strategy but you would also encourage people to a healthy and inspiring lifestyle. This way, you would connect with your gym members, gather potential customers, basically reach your target audience. This already makes your gym ahead of its competitors.
Gym marketing is not just about selling your services, it is also about inspiring people to take the first step in changing their lives.
You can utilise your website to encourage referral programs, give away free training day passes for those who would sign up for your newsletter. Another great way of making the most out of the website is by offering free fitness blogs! You can write about a crash course into your gym's specialised classes or workout programs and you can even discuss having a healthier lifestyle.
Including tips on ethical daily routines and other tips on having a healthier way of life is a great way of gaining a following.
Before creating a dedicated blog page on your website, it's best to ensure that it features all the needed on-page fundamentals for SEO or else you'll risk the visibility of your great articles. Search engine optimization is a huge part of a digital marketing campaign, without it, local businesses online would remain unfelt. If you wish to have a booming Google My Business account, famous social media platforms, you would invest in SEO as part of your marketing plan. In return, you would gather new members, onboard a team of personal trainers, and get your website and business online.
Digital fitness marketing does not stop at promoting your fitness business, it involves social media management, SEO, referral program initiatives, gym membership online portals, and more. You have to think outside the box. The possibilities are endless!
Another key point is offering an exclusive app that helps your members keep track of their progress, updates for new classes and connect to community members. Certain gyms have personal trainers who create workout groups for several purposes but you can leverage this further by developing your own app that integrates workout schedules, community interaction and even payment!
The Perfect Mix of these Gym Marketing Ideas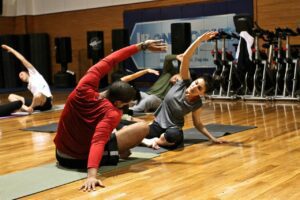 To attract new customers and potential clients, you need to take advantage of the evolving and digital world. Summing up, understanding the ins and outs of today's technology allows you to partner certain channels with traditional marketing strategies. But for you to successfully create the perfect cocktail, you need to implement each game plan seamlessly.
Cohesive implementation is needed for marketing strategies that involve both traditional and modern ideas. For one, a key point in successful branding is consistency. Long established tactics are great for their success rate but certain ideas don't go along very well with modern strategies. Hence, it's only apt that you make sure both of your digital marketing campaigns and traditional marketing plans fit with one another.
Admittedly, this takes a lot more work than it seems but it's totally understandable if you choose to seek the advice of a marketing professional.
Digital marketing agencies can help you master different platforms and help you leverage them to your gym's advantage! Not to mention that certain firms also offer additional services like web designing, email marketing, and can even lend a hand in your marketing campaigns and branding strategies.
Don't forget to build connections on social media!
Social media networks have become the most prominent and also important virtual space where the platform is not only made use of for social networking but likewise a terrific means of marketing your brand and services.
Social media's power is extensive as you reach a multitude of people within seconds of posting an advertisement, aiding you to decrease your expenses, as well as making your reach as huge as possible to target your market across the globe using these social media promotions.
With the huge variety of online customers, which is practically 59% of the world's population, marketers would not lose out on their possibility of marketing on these discussion forums where they could reach all the maximum number of prospective buyers, compared to traditional print or TV media advertising.
It is important to use platforms that are typically used by customers to make sure that you can reach out to your target market at an extra effective rate. Nothing can be better than these social media networks where most users invest a lot of their time during the entire day.
Being present and relevant on these social networks would make one of the most effective marketing strategies for your fitness business, which can help you create some significant leads.
These social networks channels could attract the appropriate clients with the ideal info at the correct timing (lessening your typical bounce rate) and also assist you to showcase your brand name to the general public, for brand awareness.
This is exactly how the digital tool of social media sites works. It provides you with a chance to make the best out of your digital marketing efforts.
Let the experts help you market your gym and reach your target audience online!
The success rate of today's fitness industry should be celebrated and not feared, brace your fears and face your competitors with effective marketing strategies! If you are one of those fitness businesses looking for better ways for new clients to join your gym, you need the best marketing strategy out there for your gym to stand out from the rest.
You don't have to do it alone.
With Creatitive, we understand not only SEO, social media accounts handling, and content marketing but also how to market your gym on a more personal level using a strong marketing campaign on the web and social media. You would only need to focus on being a personal trainer to your gym members, you won't have to worry about thinking of ideas to promote your gym, let us handle that.
Call us and let's begin creating amazing and functional fitness marketing campaigns today!