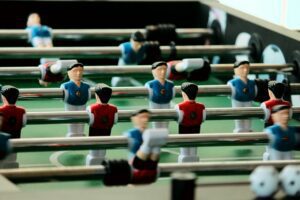 Sports teams are made up of many different people with many different personalities. So how do you go about telling the world who you are as a team when everyone is so unique? The answers are brand identity and work with top branding agencies.
A brand is what unifies each person on the team and helps you create a consistent and cohesive voice to use in all of your communications and outreach. But you don't have to develop your brand on your own—instead you can leave it to the pros. Here are just a few of the benefits of working with a professional brand agency.
What Does a Branding Agency Do?
A brand consulting firm is meant to help businesses and other sporting organizations in developing, maintaining, and expanding their brand in every way imaginable. Depending on what their client or the project needs, the brand consulting firm can provide a wide scope of services starting with brand discovery down to mapping out a marketing strategy that best aligns with their company's overall brand identity.
If you are originally from New York City, then having a sports team in Los Angeles or San Francisco, CA will be a tad bit different. That is why you need to work with a top brand agency to help you sort out the cultural differences and such.
Ultimately, working with the best branding companies helps sports teams gain a better understanding as well as the scope of who they are as a brand and how to communicate their brand identity effectively to their respective audiences. A creative agency can help you with brand identity design, and branding position, not just with your brand strategy. And now that we've covered the basics of what they are, let's take a look at why the majority of sports teams want to work with them!
Why Sports Teams Want to Work With A Top Branding Firm
1. A Brand Consulting Firm Get to Know Teams Better
To create a solid global brand, sports teams need to start with conveying who they are to the world at large. This means distilling your team members' personalities into a unified front. This is what you market to fans, sponsors, companies, and other organizations.
You know your team, but do you know how to combine their personalities into a single brand identity? A full-service branding agency will help you with this part of the project! As their client, they'll determine what your team stands for. This means understanding your values and showcasing your players' personalities to the best of their ability.
A brand agency will help you with brand identity design that will later on trickle down to your digital marketing strategies. You cannot go online without an effective web design and development, logo design, and even social media branding.
The result is a team brand strategy that everyone can see and understand. As the client's team changes, the brand consulting firm can create and adapt to the existing brand. This way things stay consistent with the current players and current values.
All it takes is a bit of communication. But once the branding agency brings the needed information of your project together, you'll feel like they know and see what your team stands for better than you did before you partnered with them. This is why if you feel like you need help, contact a branding expert right away.
A branding company and creative agency will provide you with a newer and fresher perspective.
Sports team branding is difficult to do when you're wrapped up in the team and the project itself. You become so caught up in what you think you want to show the world that doing it is tough. A brand consulting firm will provide you directions for clearer digital marketing efforts.
Branding for sports teams is almost always easier with a set of outside eyes to scope everything out. They'll take that information from their client and mold it into something that's better. It will become something that you might not have known was there in the first place.
2. The Best Branding Companies Know Your Business' Audience
For sports teams, branding helps you connect with your audience. But finding out who that audience is can be tricky. Think about your fan base. You probably have support from a wide scope of people, each in different walks of life.
How can you tell what's going to appeal to each and every one of them? Well, you don't. But an experienced branding firm and creative agency have a better understanding of what works and what doesn't for their client and the project.
A marketing agency helps you see and create effective content. This means you'll have a better chance of reaching more people you want to reach with everything you produce in your project. Anything that has your brand on it, from social media posts to advertisements and posters, will gain more attention from the people you want.
They can do this because they've worked with another client just like you or different teams. They understand what resonated with other audiences and what didn't. Using this information, the firm will create a brand strategy that's on-target for the groups their client wants to attract.
Experience is key. Without it, you could end up creating a brand that's not effective. Or worse, creating a brand that alienates the people you rely on most. In terms of brand recognition, you need award-winning marketing strategies to create a strong brand.
From the business name, logo, graphic design, and down to your web development (UI UX design) and mobile app development. There is branding there. Design and branding go hand in hand, and you need reliable brand strategy management to do these all.
3. A Branding Company is Agile and Versatile
In the sports world, agility is key. Your players need to be able to move on the field or court—they need to be able to move fast. A creative agency working as your branding services will be able to help you with almost everything. From web design, social media, SEO, and brand positioning.
And the best branding agencies can do just that. They simplify the project's process and free up time for you to focus on preparing your team for games and events. Because they're focused just on creating a cohesive brand strategy for your team, they can get the job done quickly.
But more importantly, they have experience working with different industries. Remember, your team isn't just marketing itself to sports enthusiasts. You're also marketing to prospective sponsors and community companies.
If sponsors don't find your brand and message appealing, they won't want to partner with you on a project. Since a brand consulting firm can tell what appeals to different industries and what many of those companies look for, they'll create a brand that carries.
The more people you can reach, the more sponsorship opportunities you'll get. And that means more funds and more potential for growth.
Why Do You Need A Long-Term Branding Strategy?
Everyone used to claim they can tell what "branding" meant—a logo, name, catchphrase, or some mixture of these and other graphic design elements to promote a company. In the twenty-first century, the concept of branding has come to encompass far more than that, including a company's "look and feel," its digital marketing approach to marketing and communications, it is online (and, where appropriate, in-house) customer experience, and more.
Many in the sports marketing industry will be slowly becoming familiar with the concept of athlete branding. For those who aren't, here's a breakdown of how the marketplace has changed to allow athletes to build a personal brand, how it can help them make more money outside of their sport, and how brands can leverage it to achieve their marketing goals.
Brands are beginning to realize the potential of the opportunity to reach their target audiences through athletes' social platforms. Whilst traditional forms of media such as TV, radio, and print are providing advertisers with ever diminishing ROI, more brands than ever understand there is a huge quantity of underpriced attention to be leveraged on social media via influencer-led marketing strategies.
In the pre-social media era, athletes could only communicate with their audience through the press – meaning the top athletes had more opportunities to build their audience, and in turn enter long-term image rights partnerships with top sports brands.
Today, the opposite is true. Athletes of all levels, in all sports, have the power to build and engage with audiences that they can seek to monetize, all thanks to the internet. The difficulty is, that whilst many athletes have inherently large audiences because of their athletic abilities, most athletes do not truly understand how to capitalize on the attention they have captured.
There are more and more people spending time watching sports events via television, the Internet, or any streaming services. Since it is going to stay a trend, businesses are recommended to cash in the field of Sports marketing to gain a variety of opportunities. Sports marketing will bring about chances to work on different aspects of a developing industry. On the other hand, it also provides a new set of challenges for those who have not worked with sports before.
The future of sports marketing will depend on the teams, athletes, schools, and brands. More sports players will become influencers and fans will see more content from their favorite athletes on their social media channels. Additionally, teams and schools will put effort into bringing audiences out of the stadium and broadcasting. In general, this trend will continue to grow in the following time.
Branding is among the most significant resources you can call upon when designing a digital strategy to market your goods or services to that target audience. If an audience sees your brand as disingenuous it won't matter how great the product is that you're providing them, they aren't going to consider it.
What to Look for in Top Branding Agencies
When you're looking for the best branding agency or choosing from top branding agencies, it's important that you find someone willing to take the time to get to know your goals. Look for a branding agency that's responsive to your questions and concerns, even if you are in New York, NY, and are in different time zones.
Don't be afraid to ask for examples of their work. The branding agency will have plenty of examples, digital marketing strategies, creative development initiatives, strategic consulting, and different brands to show you.
Ready to get started developing a brand you'll love? Reach out today and let our dedicated branding and marketing experts help you create the right brand for your up-and-coming sports team, and drive growth to your products and services, and company. If you need help with brand identity design, web design, visual identity, or even market research, we got your back.
Creatitive is a creative branding agency based in Arizona.