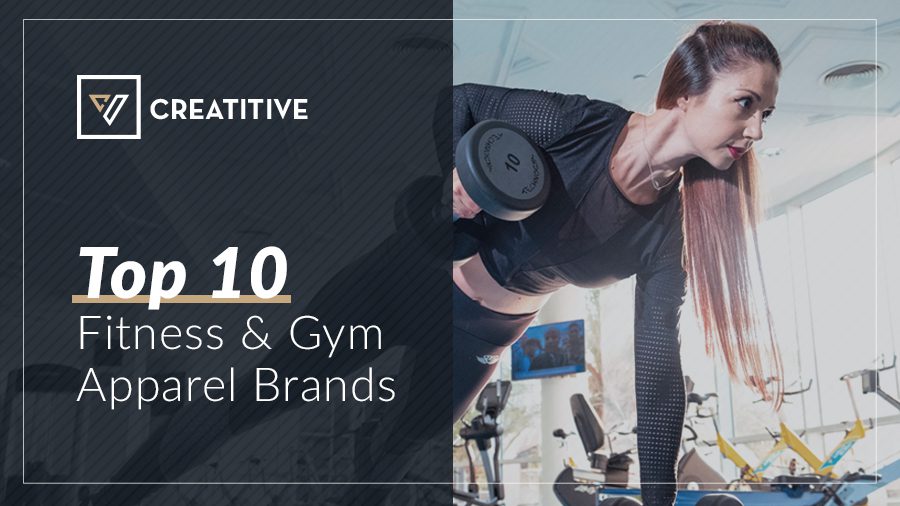 No matter what type of exercise people engage in, they always need the right gear to do it safely and comfortably. Many popular activewear brands have taken notice of this fact and started producing quality workout clothes geared for people of all ages and all levels of athletic ability. But the best gym apparel brands stand out from the competition.
Here are a few of the top brands worth following and what they're doing that makes them stand out.
What Makes a Stellar Sporting Brand?
Activewear does what it says on the label. It's clothing designed for being active. It's the running shoes you pop on to tackle your daily steps. It's the quick-drying, technical tee you wear when you go do gym workouts.
Branding your business can be a challenge, but we're here to make it easier with our ultimate list of branding tips. Knowing exactly what your brand is all about is just the start. Having a clear vision of your brand will strengthen your business.
Branding should be the layer of communication on top that turns a generic item into a recognizable product. And it is what people remember about the product. A brand-led company is a company with clarity of purpose; a deep understanding of why it exists and why people should care.
Think about some of the gym wear brands you already know and love. Why do these brands stand out to you? How would you describe each brand? Is it stylish gym wear? Technical fabrics suited for an active lifestyle? Why do these brands permeate our consciousness so well?
It's not a mistake. These gym clothes and brands that live on in people's hearts and minds do many things right.
The Top 10 Activewear Brands: In Review
Nike
Nike has been a leading athletic apparel company for decades. Though most of their line focuses on shoes, they've expanded their horizons by offering clothing that's casual, comfortable, and affordable. No, it may not be the most durable of the men's fitness apparel brands out there, but it's the most visible along with Outdoor Voices online. Their cotton football jerseys, sweat-wicking sports bras, and casual wear seamless leggings are all but not shadows of the great shoes marketed by almost all fitness influencers.
Over the years, Nike has grown enormously to become one of the most sought-after brands of sportswear, not to mention one of the largest grossing brands annually.
The name of Nike, however, spans over 3,000 years from Greece to Rome, Nike was the goddess of strength, speed, and victory and so is the perfect representative of an activewear brand.
Under Armour
Under Armour is constantly giving Nike a run for its money. Their workout clothing designs are more subdued, and the brand offers apparel geared more for the serious athlete than the casual gym-goer. While their advertising campaigns are often less visible than the more prominent brands, their sponsorships make up the difference. They sponsor both amateur and professional athletes who use their gear almost daily.
Under Armour tries to keep athletes cool, dry, and light throughout a game, practice, or workout with its performance fabrics on workout clothes. The game-changing workout clothing technology behind Under Armour's diverse product assortment for men, women, and youth is complex, but the program for reaping the benefits is simple.
Under Armour, Inc. is an American workout clothes brand and adornments organization. The organization is a supplier of sportswear and easygoing apparel. Their sheer variety and willingness to listen to their consumers make them one of the best gym apparel brands on the market. And they inspire a lot of loyalty because consumers feel valued by the brand.
No Bull
Unlike its larger gym clothes peers, Nobull is positioning itself as a training and workout shoe instead of a clothing brand. Its roots are in CrossFit, a high-intensity fitness regimen, and it's been adopted by many of the most prominent participants in an annual fitness competition with events such as weightlifting and gymnastics. It's so ingrained in the active lifestyle community that it became the title sponsor of the CrossFit Games in previous years.
To grow more, Nobull is counting on that training credibility to translate across all sports making its way to this list of best gym clothes and sportswear brands. The brand currently has 15 athletes on its endorsement roster, including four non-CrossFit athletes. People like Alex Anderson, a CrossFit Games competitor, and Will Grier, quarterback for the Carolina Panthers, are just two of their partners.
Lululemon
Sure, you're probably thinking this brand is all about yoga. But it's not. Lululemon produces a line of high-quality men's fitness apparel meant for yoga, running, and hitting the gym. They're heavy on the influencer game and rely on social media to increase brand awareness. But there's no denying that it works, and their popularity and quality products make them one of the best men's fitness apparel brands.
Lululemon's unique community-building strategy has led to its incredible growth and success as a workout clothing retailer. Instead of relying on digital platforms, their strategy focuses on localized communities that operate in the physical world. Relationships with local leaders like yoga instructors and fitness studio owners are nurtured through product sponsorship and other forms of collaboration.
The control of these relationships is also local—Lululemon trusts stores to build these connections instead of controlling them from a centralized headquarters. It is much easier for locals to connect with each other in a mutually understood culture, and meeting face-to-face only makes the connections more robust.
Adidas
Adidas wins for having the best gym clothes. Their lines feature bright colors and unique designs that stand out from other athletic clothing brands on the market.
Starting with the creation of shoes and other products for sports, the Adidas of today is no longer only about sport. Adidas gym clothing has become a symbol of the street, pop culture, music, and more, forging its existence through its remarkable communication strategies.
As one of the top gym apparel brands, they have an aggressive marketing campaign that uses everything from internet ads and television commercials to athlete sponsorships and social media influencers. With so much visibility, it's natural for the brand to dominate in just about every sport and even other gym gear equipment that consumers need.
Asics
Asics may be a paragon of high fashion, but they're also one of the best men's gym wear. Their line is affordable and functional, which allows them to market to a broader demographic. It's not designed for gym users who want to look their best. Instead, their line is meant to be functional, durable, and not break the bank.
Further, they target their products to different sports often neglected by the other big players. They target volleyball, triathlons, tennis, wrestling, track and field, and general fitness. You may not see ads for them on television, but their presence within the world of sports is undeniable.
Reebok
Reebok has been around for decades, and while they're not the trendiest gym apparel brand, they are one of the most innovative. Their clothing is designed to last, and the company sponsors many athletes across dozens of different sports.
The company was renamed "Reebok" in 1958 from a South African dictionary, which refers to a type of African antelope. Reebok designed the Reebok Freestyle aerobics shoe, the first athletic shoe for women. In the 1980s, the company introduced sports clothing and accessories. In August 2005, Adidas acquired Reebok, and since then, they're constantly innovating, and their advertisements rival Nike in print visibility.
New Balance
New Balance's classics-oriented catalog, among other workout clothing brands, isn't a facade.
Best known for their shoes and not so much with the whole gym attire, New Balance has shifted from just an athletic company to one trending in athleisure fashion. They partner with other brands, most notably J.Crew, to create unique looks for both men and women. As years passed, New Balance's technical credibility was never questioned. Running shoe after running shoe earned best-in-classic honors. But, what sneaker shoppers considered "cool" changed with the seasons. New Balances became dad sneakers, scorned for their sensibility. Their affordability — a strength to those with common sense — was ammo for arguments against them.
Wolaco
Wolaco specializes in compression workout clothes such as shorts and pants. Their activewear brand designs put function first and feature secure pockets for keys, wallets, cell phones, and anything else you need to carry. They cornered the market for men looking for a way to take everything they need with them on outdoor runs or trips to the gym without relying on bulky wallets, being the perfect gym wear for active and socially occupied men.
Fourlaps
Fourlaps caters to people looking for athletic wear that works just as well on the street as it does in the gym. Their shorts look nice enough to wear to casual events and feature pockets large enough for even the biggest iPhone.
Put Fans and Consumers at the Center of Every Marketing Approach
Engaging fans has become more important than ever in the ever-changing landscape of sports and athletics. There are countless ways for fans to consume sports content, and sports brands have to develop creative promotions to engage their fanbase to drive engagement. With a thoughtfully crafted campaign, sports and gym clothing brands can build relationships with fans and keep their stands full even while competing with the wide variety of options at fans' fingertips.
Each of these athletic clothing brands has one thing in common: they focus on the people using their products rather than sticking to a trendy or fashion-forward design. The best gym clothes have something they all carry over into their marketing campaigns and websites. But they all do it in unique ways that stay true to their brand values and personalities. Is this something you would want to apply to your gym clothing brand?