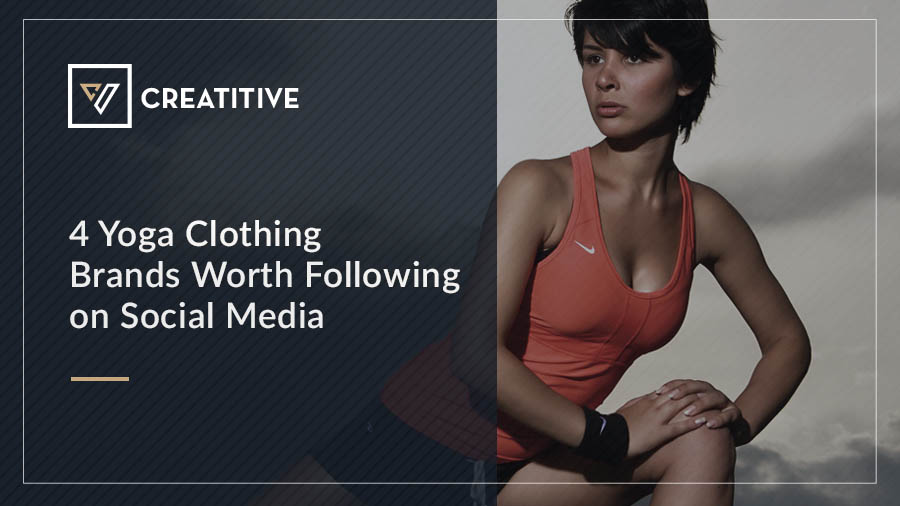 The world of sports clothing and athletic wear is always changing. And with social media dominating the digital marketing world, you need to keep your brand relevant and trending to have lasting impact just like the hottest yoga apparel brands.
Recent statistics have revealed that there are currently 2.3 billion active social media users around the world — with Facebook's messenger handing 60 billion messages a day. Furthermore, marketers have released several case studies showcasing the incredible level of opportunity platforms like Twitter, Facebook and Instagram offers.
Social media has opened the door to a new approach in advertisement, one that's inexpensive and more intimate. But as the industry of sportswear grew, the best yoga clothes brands have stepped up their Instagram game.
Here are the top four yoga brands worth watching on social media!
Lululemon
Lululemon has long been one of the most popular yoga brands out there — and for good reason.Their yoga clothes for women last, are comfortable, and look nice enough to wear outside of the studio. Aside from selling high quality workout clothes like their hot yoga pants and yoga mats, the brand offers yoga class and other meditation sessions with the fitness startup called Mirror.
Their social media accounts focus on sharing the stories of real people who use their products. This helps them connect with other users and shows that they appreciate every person who supports their brand. Additionally, the yoga brand also expanded its campaign by partnering with ambassadors that provide workout samples. They make use of user-generated content through their branded hashtag #TheSweatLife to promote active lifestyle.
Prana
The yoga clothes brand Prana that offers yoga tops and other eco-friendly yoga wear took a different approach. For instance, they use their accounts to share news about their yoga clothes for women! Comparatively, they focus on spreading positivity and building users up. Their Instagram account has more than 200k followers. In similar fashion, most posts and stories focus on sharing messages of positivity and encouragement.
They believe that yoga is for everyone and it shows. This makes the brand relatable to most and they're not afraid to show off the full range of sizes.
One great campaign that the yoga apparel brand led a couple of years ago is the #7DayStretch on Twitter and Instagram where they invited bloggers to join the creative challenge of wearing the same yoga pants for seven days.
Beyond Yoga
Beyond Yoga is rapidly growing in popularity among the leading yoga clothing lifestyle brands. The yoga brand offers sports bras and other athletic wear.
Their social media accounts shift the focus from yoga clothing and practices to humor. They share memes, jokes, and interact with their followers across multiple platforms. For example, if users have questions, they get answers in comments quickly. Beyond Yoga promotes their products in an entertaining and genuine manner — earning the trust of their consumers.
Athleta
Undoubtedly, most yoga clothes are marketed to women. With this in mind, Athleta uses this to their advantage in their social media accounts.
For instance, they actively promote a community feel with their audience, showing real women doing real activities in their Athleta wear like their famous high waisted tights. Their Instagram account has more than 500 followers while their Facebook page is full of posts from customers sharing their experiences. They've mastered the art of turning a photo into a conversation-starter.
Aside from this, the yoga brand also makes the most out of their social media campaigns by promoting ongoing promotions like free shipping and sales on its online shop.
Key Takeaways in Branding Yoga Apparel
So, how can you follow in the footsteps of these great yoga brands? See how their strategy matches your company's goals and your brand message.
Taking a quick overview, sharing a message with their audience is a common theme. It's important to realize that their core values are consistently conveyed through each strategy in terms of branding yoga clothes. Without them, your audience would have a hard time connecting with your brand in any platform.
Whether you're sharing the stories of some of your greatest consumers like Prana or highlighting the active lifestyle of your biggest supporters like Lululemon or inviting building communities like Athleta, it's important to ensure your core values shines throughout.
Once you have a feel for your company's goals, you'll be able to start using social media. Approach is as a conversation rather than a sales pitch and you'll see an improvement in engagement and rankings.
Brand Consistency and Yoga Pants
It must be remembered that branding is built through consistent delivery of your brand promise. By cultivating steady experience for your clients, your brand builds trust which then becomes the foundation of loyalty and promotion.
Brands who resist consistency will have a hard time implementing successful product and apparel branding efforts. It's important to realize that every single part of your organization has a role to play in building your yoga apparel's brand.
Despite the constant need consistency, this doesn't mean you can't change. As a matter of fact, having a stronger foundation allows you to explore several paths in marketing your yoga pants!
Schedule a Consultation
Need help figuring out how to convey your brand's message to your clients and customers? Contact us to schedule a consultation.