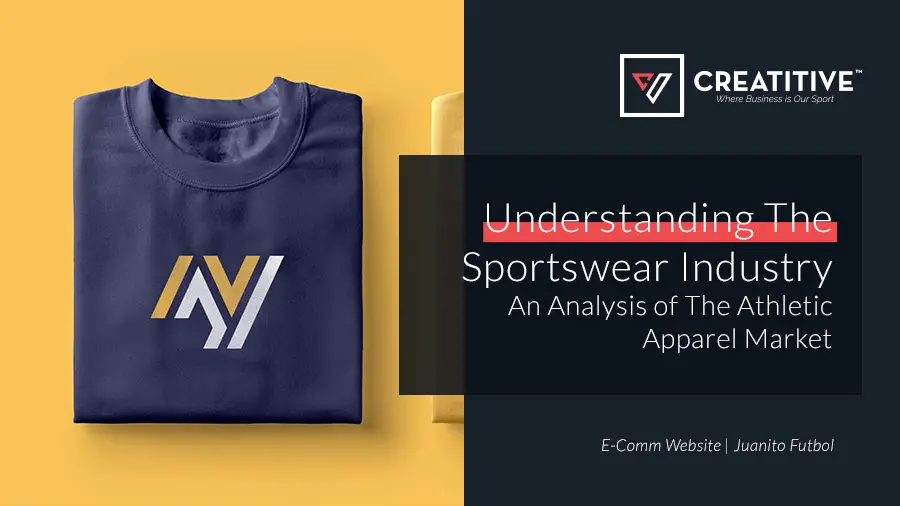 The sportswear industry is experiencing massive market growth. The global sportswear market size is significant, and experts predict that it will continue to grow in the upcoming years.
In 2021, for instance, experts estimated that the global sportswear market was worth more than $366 billion, and it's predicted to reach $455 billion by 2024. This year, the sportswear market will be worth over $379 billion. The numbers clearly continue to rise as consumers can't get enough.
Why is this? For starters, consumers appreciate versatile attire and can go from the gym to the office, the studio, and the supermarket. Sportswear is also considered high fashion, with luxury street brands, authentic styles, wildly unique shoes, and bold accessories.
Let's dive in deeper and complete a sportswear analysis from an overview of notable brands, consumer culture, and what lies ahead.
What is a Sportswear Analysis?
A sportswear market analysis is a research report, often broken up into a region analysis report, that compiles fashion trends, market research, regional insights, leading companies, retail stores, key players, and key companies. It showcases the competitive landscape and identifies the key players, growth factors, market dynamics, and compound annual growth rate (CAGR).CAGR is the rate of return (RoR) needed for an acquisition to grow from its beginning to its ending balance, assuming the profits are reinvested at the end of each investment's life span. The compounded annual growth rate (CAGR) is ideal for calculating returns for anything that can rise or fall in value over time. It is worth noting that the CAGR does not reflect investment risk.
To calculate CAGR:
Divide the total value of the investment at the end of the period by its value at the start.

Raise the outcome to an exponent of one divided by years.

Subtract one from the result.

Multiply the figure by 100 to convert the answer into a percentage.
The compound annual growth rate isn't an actual return rate but rather a symbolic figure. It is essentially a number that describes how an investment would've grown if it was at the same rate each year and the profits were reinvested.
This is a helpful figure when creating a global sportswear market report. It compiles key players, retail stores, and, in this case, those in the athletic apparel industry, from the Asia-Pacific to North America, South America, the Middle East, and beyond.
An Overview of the Current Industry
The global sportswear market currently has many vital companies. This includes Columbia Sportswear Company, Adidas AG, Nike, Lululemon, and other significant players. The activewear industry is booming, allowing for increased participation and many new sports apparel companies.
Major Brands & Their Growth Patterns
As mentioned previously, the global sportswear market includes many key players. When analyzing individual brands, you want to explore the competitive landscape, understand the global market, and set a forecast period—a defined period in the future taken to prepare an estimate of what is thought likely to happen during that period. You'll also want to consider each distribution channel.
Sports apparel industry brands with significant growth, rising popularity, and innovative solutions are ones to watch. Explore their digital marketing efforts, social media channels, and strategic initiatives, and complete a detailed analysis of what's working for them and what isn't. Consider replicating their strategies in a unique way for your brand.
Also, keep in mind your sports budget and implement new strategies within your bounds. BrandBuild™ is an excellent way to do so, plan well, and build a solid foundation on which your brand will stand. It includes vision, positioning, brand guidelines, and a clear understanding of your market competitors and differentiators.
Trends in the Sportswear Industry
Sportswear market growth can be attributed to many growth factors, from an increase in the popularity of sports apparel and sports activities to the rise in average household disposable income, the rising demand for online shopping, and more individuals playing sports and participating in sporting events.
Both the women and men segment of the market is experiencing rapid growth. North America dominated sales in 2021 and continues to thrive as the largest regional market. Market analysis shows that an increase in disposable income is a significant factor in this expansion.
Athleisure
Athleisure is versatile, comfortable clothing that can go from the gym to the studio, office, and beyond. It is casual, wearable clothing designed to suit sports activities and everyday wear.
This clothing segment has experienced a massive boom since the Covid-19 pandemic. More individuals found themselves working from home and wanted casual clothing. Fast forward to the near future, and market research shows that this trend is still on the rise for sports footwear, sports apparel, retail stores, and the athletic apparel market.
The Sneaker Game
One segment of the athleisure sportswear market that has experienced massive growth is the athletic and high-fashion shoe market. Consumers adore trendy sneakers—everyday worn items with multiple uses and functions. Sneakers also serve as status symbols and have become a hyped-up feat of marketing and popularity, especially amongst influencers and celebrities.
Major companies compete for market share through innovative designs, footwear technology, and marketing strategy. Everyone uses footwear of some kind; therefore, brands tailor it to the specific fitness activities, type of consumer, and need. New product lines solve problems and create a competitive advantage, just like athletes used spikes to increase traction on a track or field, and companies added laces to provide a more custom fit. From trail running to the office to morning walks to the slopes—there are many styles of shoes based on activity.
The primary innovation available to new brands is raw materials and technology. Take the New Balance athletic shoe. It is exceptionally versatile, features multiple materials, from suede to recycled leather, and is suitable for various fitness activities, from running to lifting weights, CrossFit, and casual wear.
Youth Culture
Youth culture has helped to expand the sportswear market size tremendously. For companies to compete, not only must they keep costs low by outsourcing materials and production from North America to South America, the Middle East, and the Asia Pacific, but they must also pay close attention to market growth, each distribution channel, and, of course, youth culture. After all, the youth segment of the market report is substantial.
Fortune Business Insights shows that the global sportswear market size was USD 160.61 billion in 2020. Each new forecast period shows market growth for nearly all sports apparel brands, from Columbia Sportswear Company to Anta Sports Products Limited, Li Ning Company Limited, and even brick and mortar stores.
Why the boom?
Youth culture is becoming increasingly influenced by social media. Trends are on the rise, rapidly fleeting, and constant. Sports apparel brands have noticed this market growth and capitalized on the trend, increasing products in each distribution channel and seeking a competitive advantage via popular apps and movements.
Consumer's Choice
The key for any consumer brand seeking to increase market share, better connect with the end-user, and capitalize on Fortune Business Insights trends is to compile economic analysis data—data regarding the financial health or well-being of a country, specific regions, or individual markets. This data is used to power economic analysis and enrich other categories of financial data. It allows for better decision-making, alignment on vision and positioning within the market, more accurate data in each forecast period, and an increase in market share.
The goal is to become the consumer's first choice in sportswear.
Factors that Boost the Global Sportswear Industry
Experts believe the global sports apparel market will experience remarkable growth in the 2021—2028 timeframe. The increasing availability of different kinds of sports apparel is boosting the market's growth.
Increased public awareness around health and fitness worldwide is the main factor driving growth. Additionally, the availability of different kinds of sports apparel designed to facilitate comfort and stylish look and support while performing high-intensity workouts is projected to bring lucrative growth opportunities for the market in the forecast period.
The Future: What's Next?
So, what's next for the sportswear industry?
It is experiencing massive market growth and doesn't appear to be slowing down anytime soon. New brands come on the market each day, and existing brands show a more significant CAGR than ever before. Keep this in mind, and remember to take advantage of marketing on social channels and keep up with current trends. Now more than ever before, marketing is the difference between brand success and failure.