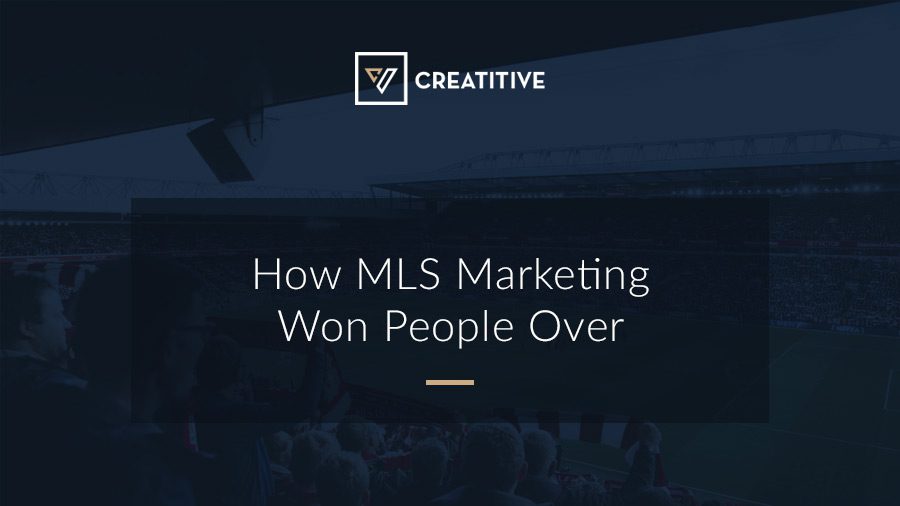 Unlike their love for basketball and baseball, America's fondness for Major League Soccer took a while to happen despite being one of the most popular sports around the world. But as a new season begins, MLS commissioners are now seeing signs of a major breakthrough — with recent surveys suggesting that the league is becoming increasingly popular among 18 to 34-year-olds. This is all due to MLS's marketing strategy.
Experts believe that the European and international football events like the World Cup likely played a factor in the numbers mentioned above, it's still a major movement for the league! But how did they do it? While MLS have been in the United States for quite some time, it really took them a while to get a grasp of their audience. 
Today, Creatitive's here to break down the MLS marketing strategy that led experts to believe they might just beat baseball and the emerging MLS digital marketing campaign of the league's 25-year plan!
But before anything else, let's first discuss the popularity of the league!
How Popular is MLS
Major League Soccer has been around since 1994 and while it has an average attendance of 20,000 people per game, it was only recently that the league started to experience acceptance from the majority of American sports fans. 
The very first instance of this happened was around 2007, when English athlete David Beckham announced his plans to join the LA Galaxy by signing a five-year $250 million deal. The arrival of international players and the seemingly constant expansion of its teams, commissioners predicted it'll beat both baseball and hockey in terms of popularity.
While some people believed that some of the league's past predictions were either a hit or a miss, a Gallup poll from 2018 has revealed soccer has become the second fastest growing sport in the United States — and it's not just because of the World Cup!
Frankly speaking, several of the country's traditional sports are finding the transition to digitalisation difficult. But instead of backing down on the idea, MLS invested into the future! The league launched a major branding initiative that included major digitalization of its marketing campaigns.
The New Branding Initiative And Digitalization
Following its $75 million eight-year media rights deals with ESPN, Fox and Univision in May 2014, MLS unveiled a new logo as part of it's "MLS Next" branding initiative. The rebrand happened during a time in which the league saw new average attendance records.
Commissioners explained that the new logo and identity system showcases the league's confidence for the next coming years. And alongside the new branding initiative was MLS' decision to embrace digital innovation for football marketing. 
The league wanted to make the most out of their growing fanbase in North America and other places by ensuring their social media platforms can translate the unique in-stadium experience of their matches. MLS Digital had four elements they keep in mind when creating content; fan connection, on-field talent, stadium experience and media quality.
They wanted North Americans to feel as if they're watching the real thing despite being at home and on their couches. They developed strategic partnerships with companies like Twitter, R/GA and Sendto News to utilise today's cutting-edge technology. 
Their collaboration with Twitter led them to having a hashtag emoji for every single team and they were able to conduct 2018's All-Star voting on the said platform. On the other hand, their digital content distributor Sendto News is able to spread highlights, interviews and other content to over 1,600 local publishing partners of MLS — allowing the league to serve fans in far places. 
As for personalization, MLS further emphasizes how unafraid they are of modern technology by betting on artificial intelligence to create user-specific highlight packages of content. The league understands that most of their fans lead a busy life and most of them don't have enough time to enjoy content. So, they're here for them! 
Grander 25-year Plan
As the league celebrated its 25th year last February, Commissioner Don Garber announced MLS' vision for the next 25 years. 
Aside from team expansions, Garber expressed the league's plan for better technology infrastructure. He explained that with higher rights packages, MLS will be able to invest more in marketing, content and fan development. Ultimately, the league plans to improve its audience growth in the next year by improving it's already innovative digital marketing strategies. 
There's really no need to be afraid of innovation and modern technology. While it can definitely be intimidating for those who barely have an idea how things work, it can definitely be an advantage when adapted early on — just look at what MLS did!
 In any case that you want to start digitizing your own campaigns but you're not really sure where to start, reach out to our team of marketing experts and we'll help you out!