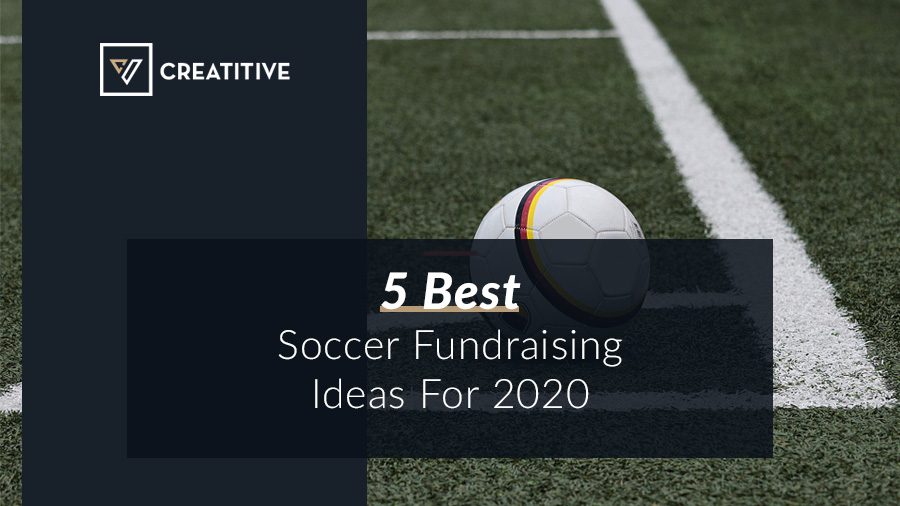 The emergence of modern technology led a number of people to believe that online crowdfunding and social media challenges has rendered in-person fundraising event obsolete. But despite the successful fundraising efforts commenced online, statistics says otherwise. One top that I'm going to talk out in this article is soccer fundraising ideas.
Latest research has revealed that 80% of Americans believe that it's necessary for people to come together in person to promote positive change. Furthermore, three-quarters of adults aged 18-34 believe that attending live events creates more impact in comparison to just taking action online.
So if you're having second thoughts on whether your fundraising ideas for your soccer team would still be as effective, we're here to tell you it remains as effective as it did before!
How to Raise Money For Soccer Teams
The internet has opened the doors of sports teams to several methods of raising funding aside from the traditional ones they've grown up with.
From tools like Crowdfunding and other brand new tactics, sports clubs can now further expand their reach in raising funding for travel expenses and other needs. But despite the growing trend, it poses the question of whether online fundraising methods are really effective? Did they really manage to eradicate traditional fundraising?
Admittedly, most traditional soccer fundraising ideas have higher costs in comparison to its successor. But what really dictates the success of a project is its ROI or Return of Investment — these costly spends might bring in greater revenue for the sports clubs.
This is the reason why traditional charity events remain relevant up until today. Experts believe that it would be a huge mistake to just dismiss the traditional methods we've grown up with. As a matter of fact, some even say that modern technology can actually improve the way soccer teams raise money!
With this in mind, we've listed down 5 of the best soccer fundraising ideas for soccer teams!
1. Coaching Sessions
Inspire young athletes to pursue the sports career of their dreams! One of the more tried and tested soccer fundraising ideas is hosting coaching or training sessions.
You can auction exclusive coaching sessions and training with the soccer team. And if there's a youth soccer team within your locality, you can reach out to them in organizing a joint event that can benefit both teams!
2. Lead Walks
Another fool proof soccer fundraising idea is marathons. Soccer teams can organize this event in two ways, having a traditional fun run or have an event that involves another important member of the household — pets.
Buddy walks are great events that encourage other members of the community to join aside from families. Your athletes can lead the walk alongside their favorite buddies!
3. Launch Exclusive Merchandise
It's understandable for smaller sports organizations to be reluctant to release their own merchandise. This is because too many sports clubs have large quantities of unsold t-shirts, caps, and more.
Admittedly, this fundraising idea has the potential to be costly and inefficient. But if done right, teams could possibly meet their fundraising goal with this alone. For instance, instead of just offering these products all year round, put a limit to it!
Limited edition items creates a sense of urgency within consumers that causes them to purchase what they like. If you're unsure of what to put, you can consult expert designers for ideas! Not only will your merch look professionally produced, you'll be sure that each of them is inline with your brand.
4. Lead Anniversary Dinners
Invite some of your greatest previous team members for a night of celebrating both past and present achievements of the team! It's common for sports clubs to host fundraising galas and while it's traditionally held as a sit-down dinner, you can elevate the experience further by dedicating an entire day for the event.
Organize a special game between former and current players to raise money! Encourage your community to come and see their favorite players back in the game for one match. And once the games have been held, the traditional dinner can be commenced!
5. Sponsorships With Local Brands
Sponsorships is a staple strategy for team fundraising — and this is because it's one of the more mutually beneficial strategies available.
For instance, soccer teams are known for promoting their sponsors during games — making it an irresistible opportunity for those local brands who want to expand their target audience further. With this in mind, both parties go above and beyond to come up with an agreement that benefits them!
Trends may come and go but nothing beats sponsorships. And because of the great opportunities that emerged alongside digital marketing, soccer teams can raise their sponsorships further with the help of the Internet.
Raising Sponsorships
Because of the great success of digital marketing and online promotions, the value of sponsorships have significantly increased. There are now several other platforms that offer the benefits sponsors usually have — increased funds and brand awareness — and more.
Nowadays, businesses have several alternatives for marketing, advertising and promotional advertisements. And on the other hand, their target audiences have seemingly endless options in amusing, educating and involving themselves.
That's why marketing experts highly suggest that budding professional athletes and teams start expanding their value as early as today. Newcomers should be dedicated in demonstrating why their teams are worthy of the hard-earned investment of sponsors!
With this in mind, Creatitive has broken down four ways teams and athletes can leverage what they already have in expanding the value of their partnerships!
Social Media
One of the more convenient — if not easiest — ways of amplifying the value of sponsoring your team is by cultivating a large and steady number of following on social media!
For instance, sponsors are more inclined to support athletes and teams that are actively sharing content on Instagram and are constantly engaging with their large following. A great fan engagement means the soccer team has built a trusting relationship with their followers, meaning they won't hesitate to check out the brands that support their favorite players!
Websites
It's not enough to just grab a copy of your sponsor's logo and place them somewhere on your website. Instead, try integrating their brand into the tactics you are implementing on your site.
For instance, you can dedicate a piece to your blog discussing your sponsor's business and their people. You can write about their services and their relationship with your team. Additionally, you can also create a dedicated page for all of your sponsors!
Don't just absent-mindedly add their logo on your website, show your thanks by dedicating blogs or content that highlight their business!
Content Marketing
As mentioned earlier, one of the greatest ways of leveraging your sponsorships is by dedicating them a place on a platform that guarantees brand awareness. You can take this step further by integrating their brand into your daily social media postings!
Create exclusive content promoting your sponsors and invite your fans to engage with each post! For example, you can hold contents that involve following the social media accounts of your sponsors.
Emails And Newsletter
If you're yet to start your own email marketing campaign, now's the right time to do so! Start by sending thank you emails to everyone who has participated in your recent game or event and create dedicated sections for your sponsors.
This is another great way of amplifying the value sponsors will receive by supporting your soccer team. Knowing that their business will be promoted even after the events and the games are over show that you value the investment they've put in your team.
Valued Relationships
Let your soccer team build lasting relationships with their community and their sponsors by partnering with great sports branding companies like Creatitive!
Our marketing experts can help athletes and teams cultivate and maintain a great following that adds more value to each sponsorship they make!