Web presence in today's society plays a pivotal role. Being a resource many brands use to merchandise their products and services, the online brand presence that every gym or fitness center should have is undeniably essential to succeed in today's fitness market. Along with your web presence, your gym's online image is another element that will help you complement and strengthen your web presence. A well-crafted online image with all the necessary features to succeed can provide businesses diverse benefits within their brand identity and aesthetic.
Today, we are here to talk about how to build a strong web presence and gym's online image, from the importance of a well-positioned brand presence to the different aspects and elements that will help you give your online content that extra factor that will appeal to your audience and target market.
Gym Fitness Center's and Web Presence
A strong web presence encompasses a business, athlete, or brand's online visibility. A web presence includes diverse digital platforms like webpages, social media, and others. A gym brand or fitness center has a solid and approachable web presence when its content is accessible and easily discoverable to online fitness audiences.
Web presence is about creating a digital identity for your fitness brand that reflects your values, mission, and identity. Besides counting materials like a user-friendly website and valuable and engaging content, a strong web presence should also be considered to engage with their audiences and use the diverse platforms available for a closer and functional communication system.
Before explaining all the specifications that a solid online web presence and online image should have, it is essential to highlight that the process to succeed in this goal takes work. Because it is an extensive, multifaceted, and meticulous process requiring
consistent time and work, it can be a strategy that will have difficulties. However, if executed properly, the rewards will be equally worth it. From understanding your target audiences to building brand trust and credibility, we will provide you with everything you need about web presence and online image.
The Significance of a Strong Web Presence and Online Image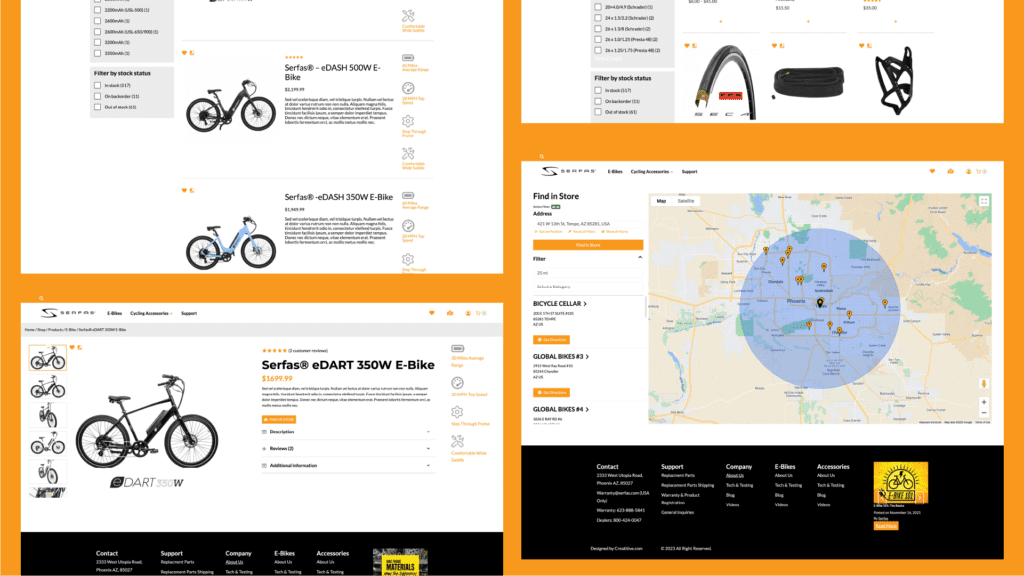 Web Strategy
Your Web Presence is going to be a strong ally on your branding goals
A strong web presence and online image in today's society is something every fitness business should consider or improve. In a community where markets and every type of business are driven mainly through digital interactions, a compelling online presence can be precisely what you need, as it serves as a gateway to retain and attract customers and increase your business range.
Besides being the perfect strategy to showcase your training programs, equipment, and facilities, an engaging online presence also conveys the gym's unique commitment and personality towards a healthier lifestyle. Moreover, positive online testimonials and reviews of clients and users about your business are powerful endorsements, encouraging potential clients to jump in faith and experience your services and facilities by themselves. Besides being ideal for forming long-term relationships with your clients, a captivating online image will help you differentiate from other fitness centers.
What are some of the critical elements that a solid online presence and visual image should have? Here are some primary factors you should consider:
Branding and an Appealing Logo:
Consistent branding elements and a compelling logo will help you build a memorable and recognizable brand image and presence. 
High-Quality Imagery and Online Content:
Your images and online content must have a constant aesthetic and quality photography. But also think about the information you will release on your website and social media. Valuable content for gym-goers focused on a specific audience will improve your online image and web presence. 
Content Graphics:
Charts, infographics, and visuals related to your brand's success with clients, membership options, and statistical information that is relevant and useful to your audience is another way to engage your online users with your content and brand.
Design and Layout:
A website that looks organized, clean, and counts with a user-friendly system that guides visitors through content is another essential element for a more substantial online presence. Look for designers who can help you create a website that is appealing and easy to navigate.
Consider your website and online platforms as the face of your business in the virtual world, being the ideal tool to leave a lasting impression on potential clients; consistent branding makes it easier for online and physical audiences to recognize and identify your brand more easily. That being said, a correct tone of voice and messaging between your business and customers is another aspect we must cover.
Consistent Messaging and Tone
A consistent brand tone of voice and messaging is another fundamental aspect of every business web presence. Being the bedrock of your brand identity, a consistent tone of voice enhances customers to recognize and connect with your business with a deeper approach. A uniform style of voice and messaging in your customer's interactions, marketing materials, and online posts shows the professionalism and reliability of your business.
Working with your brand's image, a shaped and continuous tone of voice will reinforce your visual content and elements, making it even easier for your customers to empathize with your brand story, mission, and values. Whether you are up for an authoritative, friendly, or informative tone, consistency in all the touchpoints ensures a lasting impression in your audience, reinforcing your brand's place in their minds.
How can we use our brand voice to create compelling content on our website and online platforms? Here is a brief guideline with some of the elements you need to incorporate into your web content:
Clear Content Goals: Decide and establish the purpose of your content, whether it's to inform your audience about some membership or promotion, provide nutritional tips for workout exercises, or tell more about your brand's vision and values. This will make it easier for your message to reach the right audience.
Storytelling: Think about stories and experiences you can use to showcase a deeper approach to your brand and show a more human and reliable side. As many online users will be continuously reaching your content, they can use it as personal inspiration or a gate to get closer to your business and create a brand trust bond with them.
Metrics and Analytics: Most online platforms offer businesses internal analytics and metrics of their content. Making it easier for them to identify which kind of content is more appealing and exciting to your audience and how you can improve your overall web presence.
Feedback Loop: Encourage your audience to express themselves and write opinions and feedback about your content. This way, creating a bond with them and generating brand loyalty and trust will be easier.
Once you have started publishing your online content and web presence, one detail must be handled carefully: how to manage your online brand and management reputation.
Management Reputation
When exposing our brand and business to the online world, we must remember that everyone can give an opinion and express themselves about any topic. And in the case of business services and products is no exception. Positive feedback from your audience is a valuable source of affirmation and encouragement. Besides boosting the morale of employees, it is also a powerful tool to attract new customers, as positive reviews and testimonials highlight the business's strengths.
On the other hand, we have negative feedback. Besides being a call of attention to a business-specific area, it offers improvement and growth opportunities. Negative feedback prompts businesses to fix and rectify shortcomings, ultimately enhancing their products or services. Acknowledging and addressing negative feedback demonstrates a commitment to customer satisfaction, which can rebuild trust and retain customers.
How can we correctly manage our online brand comments and reputation? First, monitoring your reviews on multiple platforms is an excellent way to notice what people and online users say about your services and products. A quick response from your business regarding questions or gym user experiences will play in your favor. It is essential to maintain a professional language and approach, whether you are answering positive or negative feedback. Acknowledging positive reviews with gratitude shows appreciation while addressing negative ones allows you to demonstrate a commitment to resolving issues.
Now that you better understand how to manage your online presence and reputation, it is time to show you ways to optimize your gym's website.
Gym Website Optimization
Besides showcasing the services and attractiveness of your business or brand, a website also needs to serve as a way for your audience to be informed about every important detail regarding your brand's services, mission, and vision. Using a user-friendly interface can be one of the main aspects of optimizing your website. It is a crucial element to allow online users to quickly locate the information they are looking for, such as workout programs, group fitness classes, and personal training options, among other things.
Furthermore, a mobile-responsive design ensures that the website adapts seamlessly to various devices, including smartphones and tablets, making it accessible on the go. Having the possibility of finding your website quickly and with any navigation device. Your audience will feel encouraged and comfortable enough to explore your website and gym offerings, an element that is crucial when deciding on which gym to invest in or be part of.
Work With Us!
Crafting the perfect online image for your business can be a challenging endeavor at times. That's why, if you desire a personalized experience tailored to your business goals and aimed at creating the ideal web presence and online image design, we strongly encourage you to contact us. At Creatitive, we boast an experienced team that will assist you in achieving the perfect logo design that will set your business apart from the competition.
FAQ
Is a Website Enough to Start Building My Online Presence?
Even though a website plays a crucial role in web presence, we encourage you to use other online platforms. These will help you to get to a broader audience and will increase the possibility of business growth.
How Long Does it Take to Develop an Online Presence?
The primary stages of crafting an online presence can take 4 to 6 weeks. However, it all depends on how continuous the work is and the goals you want to achieve.