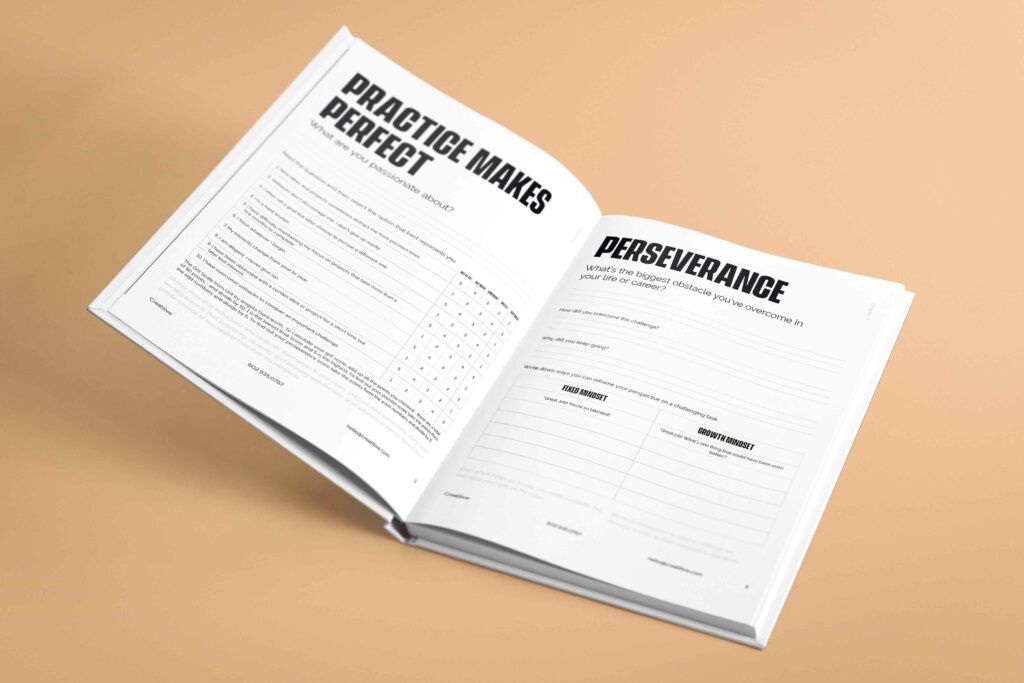 What Is a Personal Branding PDF?
To kick things off, a personal branding PDF is a document that provides information and guidance on how to create, develop, and promote a personal brand. As an internet user, you may look up Google for concepts and strategies for personal branding.
The good news is that Creatitive has created a personal branding pdf that includes valuable information to build a solid brand identity, personal brand statement, etc.
Download our personal branding PDF. This complete guide helps individuals, entrepreneurs, job seekers, or professionals promote a solid personal brand. Besides, it includes exercises to grasp the five A's of personal branding.
The Five A's of Personal Branding:
Let's work together to define the five A's of personal branding:
Awareness: refers to being aware of how people perceive your personal brand but also getting a deep understanding of it.
Authenticity: Be true to yourself and communicate your values and message coherently and consistently.
Authority: Personal brands should be a go-to source in a niche or a wide range of fields.
Audience: Tailor your personal brand to appeal to a specific target audience. Identify it and understand it with analytics tools such as Google Analytics.
Action: If you want to build a great personal brand, you need to take active steps to promote it, create a personal brand statement, share compelling content, and give value to your audience.
Learn the Five Cs of Personal Branding
Please pay attention to the five C's of Personal Branding. It'll be challenging to stand out from a crowd of competitors if you miss this out.
Clarity
Know your unique value proposition and communicate it to others.
Consistency
Be consistent in your messaging, image, and even behavior to build trust and credibility among your fanbase. Create content for your people, and you'll gradually achieve brand loyalty.
Content
It should be part of your marketing strategy, create content that showcases your expertise and thought leadership.
Credibility
All the strategies emphasize the importance of building a reputation for being at the leading edge of your niche or industry, trustworthy, and reliable.
Confidence
Be confident in your brand and communicate your value to your target audience. Evoke emotions and stir feelings— connecting with your fans and supporters is key.
We would include one more C for Customer satisfaction: whether you offer a product or service, ensure you provide the best experience to your target audiences. As Warren Buffett said, "Delight your customers, and they'll be loyal to your brand."
In today's world, people perceive Coca cola as one of the best experiences because of their approach to people. They don't sell carbonated soft drinks; they sell "happiness." People love it.
7-Tips for a Succesful Personal Branding Strategy
When people ask us, "What are the strategies for personal branding?" We go straight to the point: there are seven strategies for building and promoting a competitive personal brand:
Define Your Unique Value Proposition
A strong brand knows what differentiates it from competitors and what value it can offer its target audience.
Create a Website
This should be included in all the self-help books. A website or online portfolio is necessary when showcasing your work, skill sets, and personal achievements.
Social Media Management
Use LinkedIn, Twitter, and Instagram platforms to connect with communities online. Be authentic in life, but tell your stories. Don't be shy!
Create and Share Content
Share your expertise and thought leadership through social media, blogs, podcasts, and vlogs. Nowadays, you can create and share across multiple channels. Customers love seeing brand names in their feeds.
Networking
Building long-lasting relationships with other professionals on social platforms such as LinkedIn can help promote your brand and open up new opportunities.
Participate in Public Events
Attending conferences and being a speaker can help you spread your brand message and build authority in your niche.
Ask for Endorsements and Testimonials from Others
If you want to build trust between you and your audience, this is a great way to do it. This is also a great chance to sharpen your storytelling skills and build credibility.
Inspired? Find more personal branding tips to start today your new endeavors.
Why Is Personal Branding Important?
Whatever you intend to call the business of being yourself in an organizational sense, you've possibly taken steps to discover or enhance your personal branding. You'll find thousands of queries and content about leveraging your personal brand, and most of the stuff boils down to this: Be authentic and consistent.
Sounds easy.
So why isn't everyone a master of personal branding?
Personal branding takes a lot of hard work and is more than just a prop for your marketing and business needs. It involves deeply understanding your target audience, strengths and weaknesses, what you're good at, and more.
At this point, you may have printed up business cards or created an eye-catching website. And you've dutifully signed up with Facebook, Twitter, Instagram, and LinkedIn, which you check out frequently. Your social media marketing isn't working in your favor. Many things could hold you back from getting results; we'll delve into common mistakes when building a personal brand.
What's the best online approach for your audience? How to beat competitors? Is personal branding important?
Let's dive in.
Common Mistakes In Personal Branding Strategy
Lacking Brand Foundation
Ask yourself about your foundations: mission, vision, and core values. What makes you unique? Make sure you can define yourself in a few words. Self-awareness is crucial in life and businesses. In practice, great personal brands stand out all the time. Building a strong brand identity will make it easy to create partnerships, get hired, get a sponsorship, etc.
You may be good at many things and probably think that's the problem when connecting with people and companies —but that's not quite right. It's how you market yourself as everything but not as a whole. It would help build a strong brand identity and convince people you can do great things. Is personal branding important here? Yes, it helps define your identity in a competitive world.
The brand foundation is a north start in so many ways.
Do not attempt to be all things to all people. That's like applying for 1,000 jobs, which doesn't work. Choose a specific subject matter and an audience, and focus on that. What should your focus be?
Check out your expertise and highlights and figure out the typical thread. Are you a one-of-a-kind athlete? Are you a great speaker? Are you good at coding? Whatever you do, define how you would like people to perceive your brand.
Before you go and do research online for a free tool where you could create your brand logo, keep this in mind: brand identity is more than a logo. If that's your thought process, please reconsider it.
You don't have a personal branding worksheet.
You've pitched a camping tent on LinkedIn and do your due persistence on Twitter, yet you need to build a following specifically. Could you be committing another batch of personal branding mistakes?
Overpromoting your personal brand, especially on social media
Not every standing upgrade needs to bleat regarding the VIP you rested beside or the new gig you racked up. One successful social network method is the "policy of thirds." Simply put, a fraction of your articles must be about you, the human person; another fraction ought to be you sharing intriguing details from a 3rd party. The last part is where you dedicate yourself to advertising your personal brand.
Underpromoting and causing your online presence to falter
You are just one of those unusual human beings who knows that not every person finds what you consume for lunch each day fascinating. Beware since you can hold yourself back if you do not do a little bragging online due to modesty, shyness, or personal privacy problems.
Carelessness with your audience
This no-no prevails online. Avoid posting inappropriate content, from shots of yourself in too-revealing swimwear to off-color jokey discussions with your BFFs.
The social media personal branding sweet spot? A mix of professional accomplishments and individual interests, plus a dash of your dazzling character, without entering the humiliating world of TMI.
When doubtful, share value. Article links to exciting posts you found online, pass along fantastic opportunities, or factor people into valuable resources. Your audience will promptly determine you as someone that always has something to offer.
You're caught up in the profession you've had, not the one you desire.
Your current branding efforts should be about where you wish to go rather than where you've already been. Concentrate on the long-term for your personal brand.
Play up the projects and experiences you'd most like to reproduce. If you want to do fieldwork in a creating country for a global nonprofit, highlight the trip you spent offering in Guatemala. If you're trying to find a consulting gig in advertising and marketing for a shopping business, talk more about the successful promotional project that you designed for your buddy's crocheting service on Etsy.
Then, whether through a goal declaration on your website or in your casual tweets, when you speak out concerning the possibilities you're seeking, people will try to use them for you.
Personal branding without a Website
People frequently believe having profiles on the big three social media channels — Facebook, Linked In, and Twitter— is enough. Well, that's not quite right. A website is a must in the business world.
Your site is where you can best manage your personal branding message since it will undoubtedly dominate the SERPs when someone types in your brand name. You should offer an outstanding customer experience when people browse your website.
At a minimum, your website should have a user-friendly interface, offering users an eye-popping page to see your personal brand statement — brand tagline—or bio highlighting your experience, core values, personal brand identity, etc.
If you are niching down, you can also blog about your journey in that niche. That's another way to see online presence, right?
Missing In-Person Approach
Keep in mind to be the IRL representative for your personal brand. It's hard to overstate the influence of meeting people. It makes for deeper partnerships, collaboration, and progress toward your objectives. So keep your calling card convenient, and obtain available a lot. Drink coffee, go trekking, watch movies, or have meals with individuals who work in your field. Most likely to sector occasions as well as celebrations. Each in-person interaction will pack a more significant punch for your brand name than any Facebook conversation or Twitter discussion.
Building a brand identity goes beyond the online presence and existing marketing tactics. It would help if you had the range in the actual brand name. The importance of walking the talk. Remember, social media is a powerful tool, but nothing connects more than a face-to-face connection with your target audience.
Inactive Social Media
We get it. You are sidetracked, life got active, and you haven't spent much time keeping up your online appearances. However, that next potential customer sniffing around your online presence is asking yourself why you have not updated your blog site in virtually a year. Being absent from social media would backfire. People might have thoughts about you being abducted by aliens.
If you have diminished with your persistent branding efforts, choosing things back up from here is still possible. Write a vibrant blog about the incredible things that occurred since the last article (it need not be overexplanatory or regretful). Let the world know about your new career, you could write content related to what is new with the business or your personal life, or you could address your audience and tell them about values. This way, you could build a community that people would be anxious to sign up with and join.
Nevertheless, the other point is that perhaps yours isn't the always-updating brand. In which instance, that's OK. Just know that if you leave your accounts and websites sitting and un-updated, you could shed work. In personal branding, the daily task is the gold criterion, but strive for once-a-week check-ins, a minimum, when points obtain busy. If your name isn't out there, another person's will certainly be.
Three Personal Branding Examples that Will Inspire You!
Some of the most successful and influential personal brands live in the US. Here are a few examples of the best personal branding examples for professionals in the US:
Gary Vaynerchuk: A digital marketing and social media expert, Gary Vaynerchuk is the founder of VaynerMedia, a full-service digital agency. He is also a New York Times best-selling author and a thought leader in the digital marketing industry.
Marie Forleo: A business strategist, motivational speaker, and best-selling author, Marie Forleo is the founder of B-School, an online business school for heart-centered high achievers. She has a strong social media presence and is known for her empowering and motivational content.
Pat Flynn: A successful entrepreneur, author, and podcaster, Pat Flynn is the founder of Smart Passive Income, a website and podcast that teaches people how to build successful online businesses. He is a popular speaker and has a strong social media following.
Conclusion
In an ever-changing world, you should pay more attention to how people perceive your personal brand.
Building a personal brand is crucial for any endeavor you're planning.
If you are struggling with your personal branding process, contact us for help. At Creatitive, we understand that marketing without branding is meaningless, and branding without marketing is voiceless. 
Personal Branding Find out what makes you who you are, what makes you unique and how you can take your skill sets and grow your purpose. Studies show that individuals…