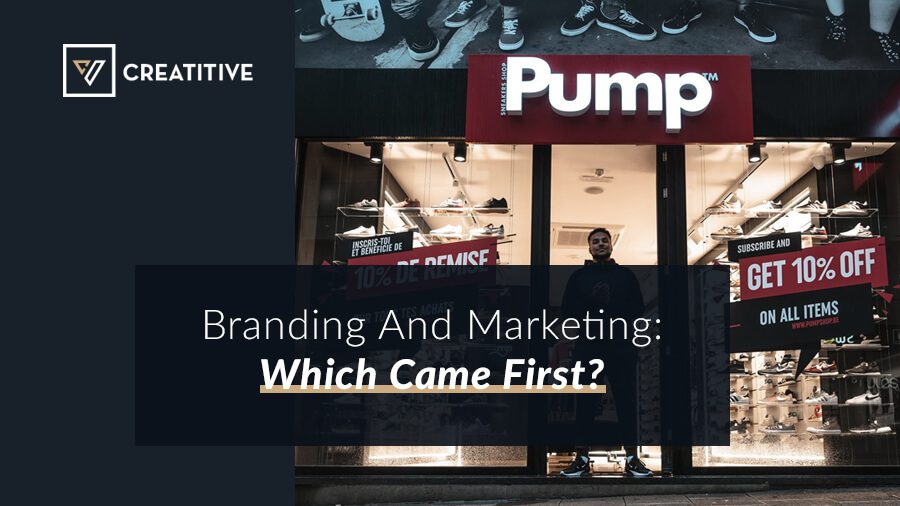 For newly established businesses and organizations, modern branding and marketing can be pretty confusing. From the several kinds of promotions down to the several ways of promoting, they can easily mix up terms and strategies.
Two of the most commonly misunderstood terms are branding and marketing. Despite being some of the more frequently heard words in the field, some people still have a hard time determining the difference between branding and marketing — so much so that some people often wonder which should come first.
Admittedly, both terms are inherently connected — but this doesn't mean they are the same thing. Without the proper understanding of both words, business owners will have a hard time utilizing them effectively.
Differentiating Each Term
Before we dive into which should come first, it's best to discuss how each term differs from one another!
Wikipedia defines Marketing as the business process of creating relationships with customers and satisfying them through a value exchange. The term refers to the activities a company launches in promoting their product or service. Some of these activities include advertising, selling, and delivering products to consumers or other businesses.
On the other hand, branding is defined as the marketing practice of creating a name, symbol or design that identifies and differentiates a product or a company from its competitors. In a nutshell, your marketing strategies are the actions you use to connect with your customers while your branding strategies are the actions you take to define who you are as a company.
Marketing is what catches the attention of your customers while branding is what turns them into loyal customers. While it's true that marketing campaigns drive sales, branding drives customer loyalty and recognition. Regardless of their differences, these two terms are a must for a successful brand.
Now that we've successfully defined and differentiated each one, we can now answer the question which should come first?
The Chicken or The Egg
Going back to the definition of each term, marketing refers to activities while branding refers to shaping the identity of your brand. Before you can jump into the different marketing efforts used today like content marketing and social media management, you must know who you are as a strong brand. (we all know it was the egg)
Sure, it's easy to market products but keep in mind that there are other companies that offer similar services. And unless you offer something different to your target audience, not a lot of people will be inclined to buy your products.
Great branding is what will help you identify the unique offering your business has. It's the process of identifying what your company stands for — or your brand messaging and what it promises to deliver — or your brand promise. These elements will help consumers associate their needs to the ideals of your business.
Once you've identified your branding, marketing will be a much easier process now that you have a crystal clear idea on the message you want to communicate and those you want to communicate with.
Why Branding Matters
Aside from serving as a guide on how you can utilize marketing strategies to your advantage, branding helps businesses create a lasting relationship with their consumers.
Marketing fads come and go — and while it may be true that continuous marketing is needed for a business to thrive, branding builds the lasting connection a company needs to survive. Sure enough, promotional tactics can catch the attention of the audiences but once this is done, they are left with the brand.

And if your brand does not know where it stands, connecting with it becomes hard for consumers — and they can easily pick other brands to go with. If you want to have the assurance that consumers will consistently choose your business, it's best that you spend most of your energy in building a brand they can trust and relate with before marketing your products.
Having a great understanding on how branding and marketing strategies go hand in hand is detrimental to successfully handling brand marketing!
What Brand Marketing is
Brand marketing is the process of boosting recognition and reputation. It's the kind of marketing that highlights both your services or products as well as your entire brand, one that focuses on long term goals. Instead of just focusing on selling, brand marketing is all about building a trustworthy relationship between your brand and its consumers.
It's an approach that focuses on growing the assets of brand equity — the value of your brand that's determined by your customers perceptions and experiences with you. If people think highly of your brand, then you have a positive brand equity.
This equity has the power to boost the value of your company. Take for example, Apple. Because of its well-established brand equity, they have no trouble introducing brand new products. The brand itself adds more value to the product, allowing them to charge more.
It's not uncommon for most small-medium businesses to view marketing efforts as added expense but brand marketing shifts this mindset by using them as investments that builds the value of a brand and in-turn, the company's value.
Making It Work
Admittedly, building a strong brand can be hard — and coming up with a solid marketing plan that promotes your products and your brand at the same time is even harder. That's why it's best for businesses to consult marketing experts like the ones Creatitive has.
It's important for business owners to realize that marketing — no matter the type and form — is an investment worthy of their hard-earned money. If done right, these efforts can return what you spent on them and more! But to ensure that you're getting the most out of your money, it's best that you collaborate on the project with experts that know their way around branding and marketing!
Though both branding and marketing are two different terms, they are similar in various ways. They are both great investments that add more value to your company!