Ever wondered how brand design can be a game-changer? Need help garnering inspiration? Take a cue from Nike's success story. In this blog, we'll share eight tips to find your branding inspiration. Read on to stay ahead in the world of branding and discover the four pillars of brand design.
What's Brand Design?
Let's kick things off by delving into brand design.
Simply put, brand design refers to the process of creating a visual identity and overall brand strategy that perfectly reflects a company or business. It involves crafting a unique and cohesive brand personality through various brand elements, such as logo design, color palette, typography, and other visual components.
With that in mind, brand designers play a key role in this creative process, utilizing their expertise in graphic design and creative ideas to develop a brand identity that resonates with the target audience.
As with any creative process, finding inspiration might be a headache, even for professionals. It poses the question: How do you garner inspiration? A good exercise is spending hours on websites to get your creative juices flowing. Not to mention some well-known authors like Alina Wheeler, David Airey, and Alexandra Watkins. In their books, you'll find the nitty-gritty, the Holy Grail of brand design, everything from the psychology of colors to the best naming strategy for your business.
As you can see, branding inspiration can come from various sources, including design blogs, curated designs, online communities, and design sites that showcase a wide range of examples from different industries. For example, mood boards are incredibly helpful tools in gathering and organizing design inspiration, combining filters such as color palettes, typography, and packaging design to explore different approaches and styles.
In addition, engaging with the brand design community, attending conferences, and following senior brand experts can provide endless inspiration and keep designers up to date with the latest trends.
Brand Design Was a Game-changer For Nike
In the book "Shoe Dog" by Phil Knight, the co-founder of Nike, there is a quote that highlights the importance of brand design to him. Phil Knight said,
"The Nike product was no better than our competitors'. We all competed on the same playing field. But our marketing? Our brand? It was, inarguably, better. The competition was fronting a commoditized product while we were always marketing a feeling, a belief, a movement."
This quote reflects Phil Knight's essence. Standing by his beliefs, the CEO of Nike took branding to the last consequence. But what does "taking brand design to the last consequence" means? Well, to understand the tip of it, "Air," Ben Affleck's last film, is extremely helpful. The main plot is how Nike convinced Michael Jordan to sign a $2.5 million deal back in 1984 when Converse and Adidas run the activewear shoes market. At the time, everybody wanted to sign with Converse and Adidas, but Nike… well, it was quite different back then. It's worth saying that Nike had a strategy. Besides creating a revolutionary, one-of-a-kind pair of shoes —the Air Jordan 1— they crafted a narrative to convince Michael Jordan Nike believed as much as him he would become the best athlete of all time.
That was a pivotal moment for branding and marketing, Nike demonstrated brand design and marketing are game-changers in differentiating not only a product but a whole brand from its competitors.
He recognizes that while the actual product may be similar, it is the brand and the emotional connection it creates with consumers that sets it apart. Knight emphasizes that Nike's success was not solely due to the quality of its shoes but rather the way it marketed its brand, evoking a sense of inspiration, belief, and identity. In other words, brand design is the MVP in creating a unique brand experience and establishing a strong connection with customers beyond the physical product itself.
How Can You Find Inspiration for Brand Design?
Finding brand design inspiration can sometimes seem like searching for a needle in a haystack. But don't fret. As a seasoned team of brand designers, we have some useful tips for you.
Eight Tips to Refine Your Creative Process and Find Branding Inspiration
This is the result of endless research and more than ten years of delivering branding solutions. Not to mention we've developed brands within a wide range of industries and sectors. Here are eight tips for finding branding inspiration.
Stay on the Cutting Edge of Branding
To stay relevant in an industry that evolves at breakneck speed, make it your business to remain on the leading edge of branding. At Creatitive, we're constantly flipping through the pages of the latest branding journal and engaging with the online community of designers for endless inspiration.
Try it!
This is one of the best practices you can integrate into your strategy.
Stay Up-to-Date with Trends and Design Insights
Graphic designers and brand strategists should be big fans of staying up-to-date. Regularly browse design blogs and subscribe to design inspiration newsletters to keep your fingers on the pulse of the latest trends. Platforms like Adobe Family are incredibly helpful, showcasing a variety of design examples in several categories, including logo design, product design, and packaging design.
Jump on Discovery Sessions: Let Your Customer Speak
One of the most valuable sources of inspiration in our creative process is our customers. That being said, keep in mind discovery sessions give you a chance to delve into customers' businesses, learning what makes them tick. Their goals, challenges, and unique selling points – all provide a rich source of inspiration for your brand identity design.
use Science + Data-Driven Info
Our approach to brand design doesn't rely solely on creative ideas. We also harness the power of science and data to guide our decisions. With this in mind, analyze your industry, competition, and target audience to ensure your designs not only look good but also serve your customers' business objectives.
Get YOUR Creative Juices Flowing
After gathering information, you should start the fun part: brainstorming. Get the most out of tools like mood boards to visualize ideas and combine filters to explore different approaches. It's during these sessions that you let your creativity run wild, allowing innovative and unique brand design ideas to emerge.
Revision: Visual Identity demands Iterative design
A crucial step in brand design is revision. We believe in the power of iterative design, refining ideas to ensure they align with our customer's brand vision.
We encourage you to do the same in your creative process. Always review your designs, checking that they perfectly reflect your brand personality and strategy.
wait for Feedback
Your input is invaluable. We present our designs and eagerly await your feedback. It's a collaborative process that ensures the final brand identity design is a true reflection of your brand. Based on that, we encourage you to be open to feedback. If a client pushes you to make an extra effort, don't hesitate. Ultimately, it's about their visual identity. Ensure they meet their expectations.
Final Step: a brand identity that fulfills your client's needs
Once you receive your client's approval, it's time to finalize the design and prepare it for the world. At Creatitive, we polish every detail, from logo design to color palette, ensuring our customer's brand identity is ready to make a memorable impact.
Treat your client's brand as if it was yours!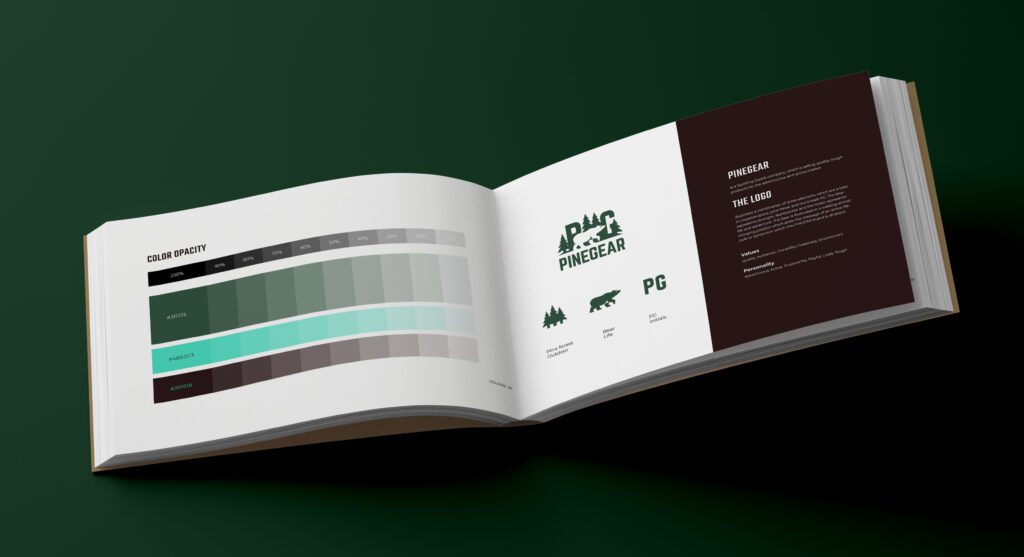 Brand Strategy
Start your digital journey today!
Exploring the Four Pillars of Brand Design
Shape Branding
Shape branding taps into the power of simple geometric forms or complex illustrations to represent a brand. The human mind naturally recognizes and remembers shapes, making them a potent tool in brand design. Besides Nike's or Apple's iconic logos, we'll showcase some brands we've developed. One of them is Pinegear. These shapes, though simple, have become easy-to-recognize symbols:
Typographic Branding
In typographic branding, typography isn't just a way to display words – it becomes the star of the show. Different typefaces can evoke different emotions and associations, making it a crucial element of brand design. Let's see how we implemented typographic branding to build a successful NFL player's visual identity.
Calvin Pryor needed a way to market his business online as well and needed to be able to reach a wide audience. At Creatitive, we designed everything from his logo to the website. It showcased his career as an athlete. Let's take a look at his logo:
Color Branding
Color branding uses a specific color palette to convey a brand's personality and evoke emotional responses from consumers. Colors can communicate a brand's identity at a glance, making them a powerful tool in the design process. We've effectively used color branding to stand out brands like Lumos and Smartfilm
Illustration Branding
Illustration branding involves using distinctive and often playful graphics to portray a brand's identity. This technique can bring a brand to life and make it relatable, helping to forge a stronger connection with the target audience. Crunch Fitness or Gold's Gym are great examples of brands that use illustrations to stand out and communicate their brand personality.
Need Help with Your Brand Design?
At Creatitive, we know crafting an effective brand design requires a delicate blend of creativity, strategy, and a keen understanding of your business. It's a significant undertaking – but you don't have to do it alone. Our team of brand experts is here to guide you through the process, from initial inspiration to the final design that perfectly captures your brand's essence.
From brand strategy to logo design, web design to packaging design, we leverage our experience, creativity, and industry insights to deliver a brand identity that not only looks fantastic but works hard for your business. Whether you're starting from scratch or looking to revamp an existing brand, we're ready to provide the expertise and inspiration you need.
It's time to create a brand that you're proud of – a brand that resonates with your audience and stands out in the marketplace. Schedule a call, and let's start the journey toward your unforgettable brand design.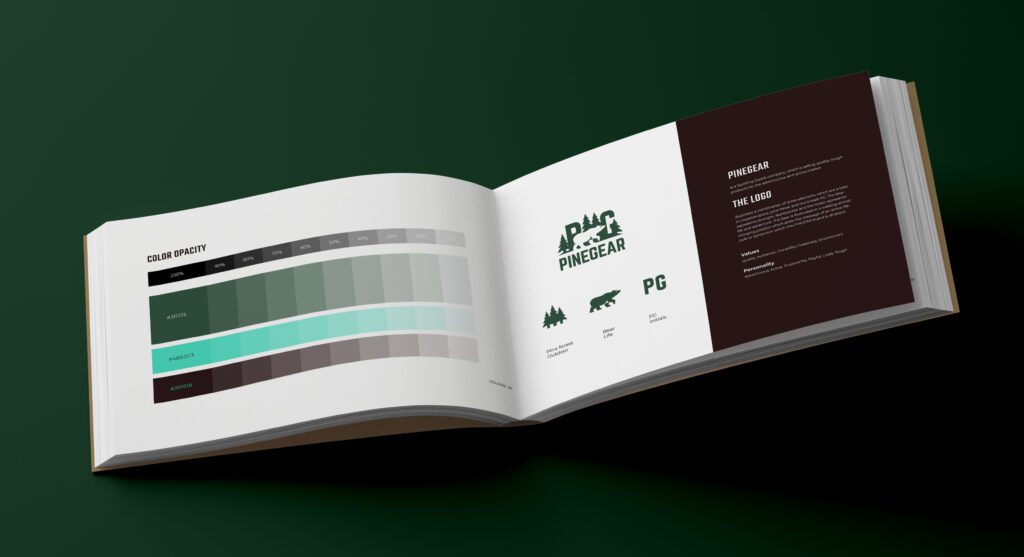 Brand Strategy
Start your digital journey today!
FAQ
How Do You Come Up with a Brand Design?
Our approach to brand design is fluid and adaptable, as every business and every project is unique. We pull from a range of techniques and tools, combining our creativity with your specific needs to create a brand identity that's both distinctive and reflective of your business.