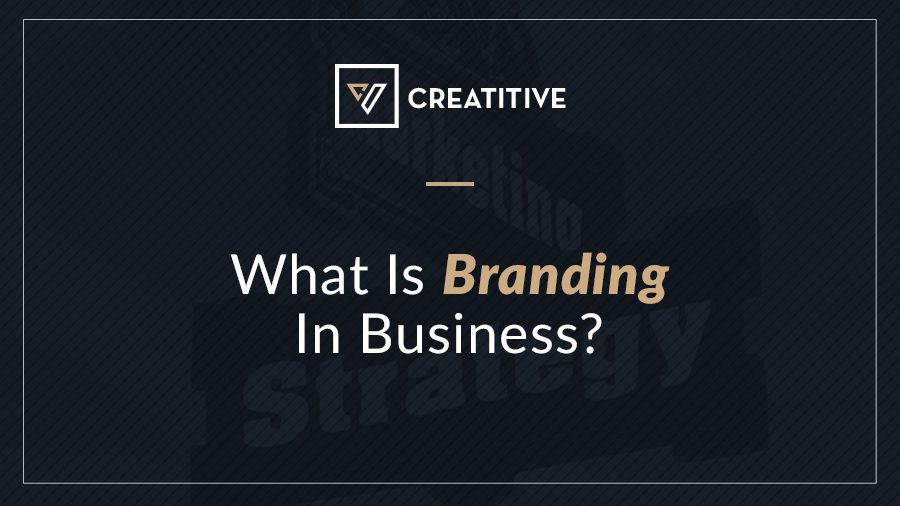 When thinking about the term branding strategies, individual's often think that it is just a marketing plan to increase sales. Of course, that is every business' goal—you must be in the green to stay afloat—but there is more to a brand strategy than just marketing materials and campaign tools.
Branding is an Organization's Backbone
What is branding in business, and why is it important? Most people wish to understand why a business needs to establish a brand identity. Branding is a way for businesses, organizations, or individuals to promote themselves in a particular industry. To have a thriving brand voice, you need to ensure that your organization has a strong foundation.
Before you attempt to sell your products or services, you need to make sure your business goals are aligned and each individual on your team understands what your business stands for. In simpler terms, your brand identity matters to organizational structure as well. After all, brand loyalty begins within your team.
In technical terms, branding involves using logos, slogans, colors, and other promotional materials and strategies to build an identity apart from your competitors.
Branding is a Critical Component of the Customer Experience
Think of branding as your company's personality—the traits and features you use to show the prospective market why your business is better than the competition. In short, it communicates your market differentiator. It is also what will keep your existing customers coming back for more. Branding is your company's overall voice, values, aesthetics, and personality. And developing a strong brand identity is essential because it helps ensure that customers have a memorable experience and lasting impression.
When developing a brand identity, it's essential to consider each element, from your logo to your reputation, customer services, advertising, and promotional merchandise. These elements work harmoniously to create a unique and attention-grabbing brand.
As you know, great branding is something that you need to implement right away, as this is where your customers will have their first interaction with your business.
If you are planning to start a business, here's a perfect opportunity for you to learn how important branding is to a business. You should never ignore one thing if you want to become successful in your niche or industry.
How to Achieve Strong Branding in Your Business?
Before you can start building solid company branding, you need to understand your company's voice, your mission, and your goals. What makes you different from the competition? What messages do you want to convey to current and prospective customers? Once you have these things in place, you're ready to start the process of branding for business.
Plan and Execute
Your branding will not prosper if you don't have the proper planning. You need to think about the message you convey to your target market. It is crucial to think about your strengths, weaknesses, and what makes you stand out from the competition.
It would help if you had a name that is recognizable and unique. Something that people can quickly associate with your products and services. Taking your time brainstorming with your team is helpful as you can plan a more strategic, creative, and effective brand strategy for your business. Creating branding for any business requires enough time and effort.
Establish a Brand Mission Statement
Why are you here? What sets you apart? These are some questions that you should ask yourself or your team while brainstorming for your brand.
You must have a clear mission statement, as this is the foundation for all written and visual messaging. It's hard to walk on the dark road if you don't have enough light to guide you. This is where brand values come in. Before developing a mission statement, you need to identify core values that define your purpose.
Having a brand mission will give you the right tool to create the appropriate brand that is timeless, memorable, and memorable.
Understand Your Market & Competitors
One of the mistakes of most newbie business owners is not doing enough research about their target market. Failure to do so may impact your overall business. Understanding your target audience is crucial, especially during its development phase, as this will be the father of all marketing strategies in the future.
Your brand identity might be about you, but your branding strategy will be about them. It is imperative to know what they want and how to provide that solution.
It is best to ensure that you understand what your customer wants. You'll need to visualize that buyer persona or create a character based on your consumer's data through your market research. This understanding is the best way to create a product or service that truly catered to your target audience.
Moreover, doing your due diligence, like researching different brands and your competitors within the industry, is very important. This will help you learn more about these other brands and how your brand image can stand out in the industry.
If your competitor is already offering the products or services you want to provide, you can think of enhancing those and giving them a new twist. Successful branding offers the best, unique, and quality products or services. Do this, and, undoubtedly, your target market will choose you.
Doing a SWOT analysis is one way to know more about other brands and competitors. This is a brand strategy that you need to prioritize.
Key areas to look for in your competitor:
Product and services
Brand identity
Content publishings
Website user experience
Advertising
Social media
Find the Logo Design That Best Represents You
We mentioned brand voice and messaging earlier, now let us discuss your visual identity.
A great logo and tagline are paramount to any business branding. This helps your customers recognize your company at a glance. People perceive brand credibility through brand logos too. This is why you need to be careful with every single visual element: your typography, color palette, graphic elements, and tagline. Remember, your brand should always represent your values.
It should be consistent across all forms of communication, including social media accounts, signage, and advertisements. If you are unsure, you can always consult and get an expert graphic designer or a branding agency to help you get that logo.
The most valuable brands all over the globe know the importance of having a good and catchy tagline. Examples are Nike's "Just Do It!," Coca Cola's "Open Happiness," and L'Oréal Paris' "Because You're Worth It." It is best to create a captivating and memorable slogan or tagline.
Outline Your Unique Selling Points
If you are just new in the market, you'll surely struggle to find your spot in the chaotic industry due to competition. Keep in mind that there will be more powerful brands than you with bigger budgets and resources—brands that already have a large community with solid brand loyalty. Think about this. How would you penetrate the market?
The answer is to determine your unique selling points, the things that make you stand out in consumers' minds.
Think about how your product and services help your target market. Check on your local community. What are the social issues your company is trying to fight for? Group of people you are trying to represent? You must think outside the box and not simply around your products and services. Potential customers come not only for your goods but also because they relate to the cause you're fighting for or your values.
Once you have focused on the key strengths of your business, then it would be just easy for you to prove your worth.
Create a Clear and Cohesive Brand Message
When you build your brand, tell your target consumer who you are by using a friendly, professional, and conversational tone of voice. Let them know what you can offer and why they should notice you. Having a compelling brand message allows you to communicate with them from your brand values. Remember, less is more and make it common sense.
You don't have to use academically-inclined words when creating a pitch. Make it plain and simple for them to understand you and the value they can obtain from you.
Integrate Branding in All Aspects of the Business
Branding doesn't stop after creating a logo, tagline, pitch, and brand personality. It should be a continuous process as your business grows. These elements should reflect your business in all areas, such as advertising cards, offices, fonts, photography, website, social media, and others.
In the end, successful branding is consistent and embodied.
You don't want your target market to be confused with your brand, right? If you have decided to change the company logo, colors or fonts, change them simultaneously across these channels. In this way, it would be just easy for you to let your loyal customers know that you are making necessary changes.
Lastly, branding for business requires consistency. Otherwise, customers won't be sure it's your company or one of your competitors. Once you have your logo in place and understand your company's mission, use them.
Always make sure you deliver on your mission's promises. Nothing hurts a brand more than disappointing customers. If they have concerns or issues with your services or product, it is a must if you can settle them right away. Always treat your customer as a king. Your customer won't return to you if they can't feel that you are consistent with what you have promised.
The Benefits of Corporate Branding
Corporate branding is your brand guidelines. It provides clarity and direction from your internal processes, marketing strategies, and business goals.
Stand Out in a Sea of Competition
Competition is very rampant in any industry. Every day, millions of new businesses are being born. If you don't have effective branding, you can't have the advantage to stand out.
Clear branding for a business has the right purpose and mission. This will help your business to be competitive. As they say, first impressions last. With the proper branding, standing out is not a problem.
Enhance Credibility
Having clear and established branding will give you more authority in the industry. Branding creates trust. And people will choose you and your product or service over others due to this increased sense of having a good reputation and credibility.
In short, credible branding gives you the right edge to stand out in your industry.
Boost Customer Loyalty
Customers will not be loyal to your business if you can't provide them with the service or product they need. With the proper branding, your business will have loyal clients who will choose you, even if a new competitor comes along. You do not have to worry about time-consuming marketing strategies when you have a brand voice that people trust and relate to because these customers will already be your brand ambassadors.
It's about building a good rapport and relationship with your target market for them to be loyal to you.
Gain Referrals and Quality Leads
A loyal customer is not just there to stick with you. Having them is very helpful in getting a good list of referrals and leads. If you can provide them with something that can satisfy their needs and wants, they will be happy to share it with their friends, relatives, and colleagues. Good branding brings in quality leads, and ultimately, it builds your brand equity.
Empower Employees & Foster a Positive Work Environment
Working in a recognized company or organization gives employees satisfaction and pride. This is one of the leading advantages you can gain if you have the proper branding.
It also offers them the feeling of being fulfilled because they are part of a company with a good reputation in the eyes of the public. Your employees will not just feel proud of being part of a good company like yours, but you can also attract talented people who will want to work for your company.
Increase Your Businesses Value
If you want to take your business to a higher level, make the brand known internationally or attract more investors or partners, business branding is one thing that can help you. Like building your brand equity, these investors only prefer a company with a more structured and robust business branding.
As your business reaches higher heights and milestones, the value increases too. More and more stakeholders will be interested in your brand and want to be part of your company. In times of trouble, they will be the ones who will come to you and offer their help because they trust your brand.
Attract More Customers & Leave a Lasting Impression
When you have well-renowned business branding, it offers your business the opportunity to attract more customers without too many challenges. Word-of-mouth advertising is an incredible opportunity for new customers to do business with you.
Strong branding also means that you'll create a more favorable impression of your company in your target audience and your clients. It is the edge you can achieve once you have that known brand.
Strong brand marketing will propel your business towards success. This is because, with effective branding, you'll get the recognition you need to succeed and gain market share.
Branding is More than a Simple Concept
Brands cannot survive without solid brand awareness and customer loyalty. Branding is the backbone of any company as it helps with strategizing and identifying what you and your business stand for.