Smart Film
B2C Business
Discovery | Branding | Web & Dev | Marketing
Mission
The mission of the development project was two-fold: Firstly, to construct a visually appealing, conversion-optimized website that reflected SmartFilm's bold brand identity and innovative spirit. Secondly, to position SmartFilm as a thought leader in automotive window tinting by transforming their website into a knowledge resource, thereby driving engagement and customer loyalty.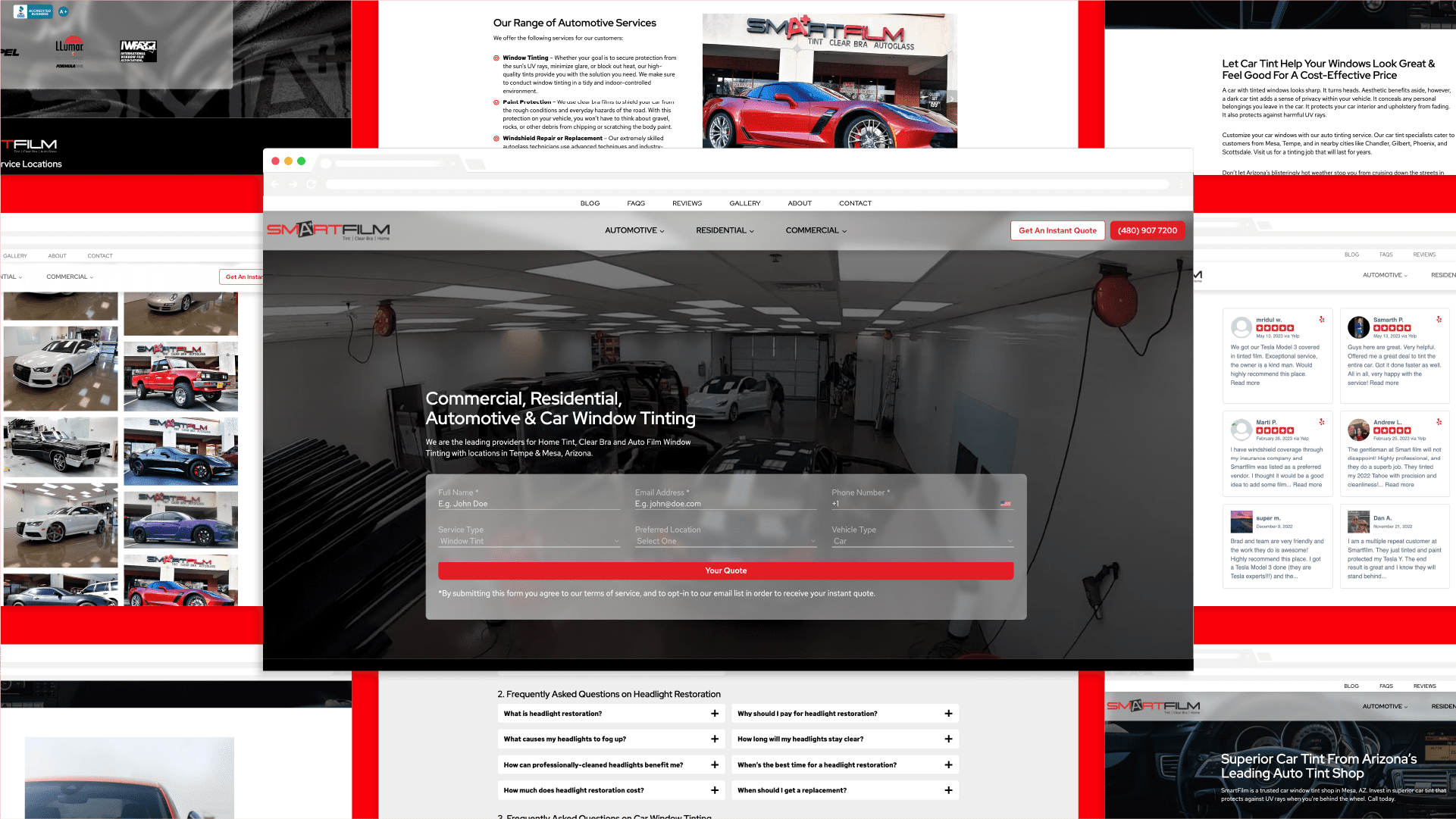 As part of SmartFilm's digital overhaul, Creatitive took the reins of their web design and development with a clear goal in mind: Conversion. To achieve this, we embraced a design philosophy that was a fusion of simplicity and boldness. We used an aesthetic that was clean and decluttered, allowing for easy navigation, but layered it with bold, eye-catching colors that embodied SmartFilm's dynamic and innovative spirit.
The redesigned website doesn't just look good – it works hard, too. We developed it to convert visitors into customers as smoothly and efficiently as possible. Clear call-to-action buttons, easy-to-fill forms, and a logical site structure mean potential customers can quickly find what they need, understand what SmartFilm offers, and take the next step.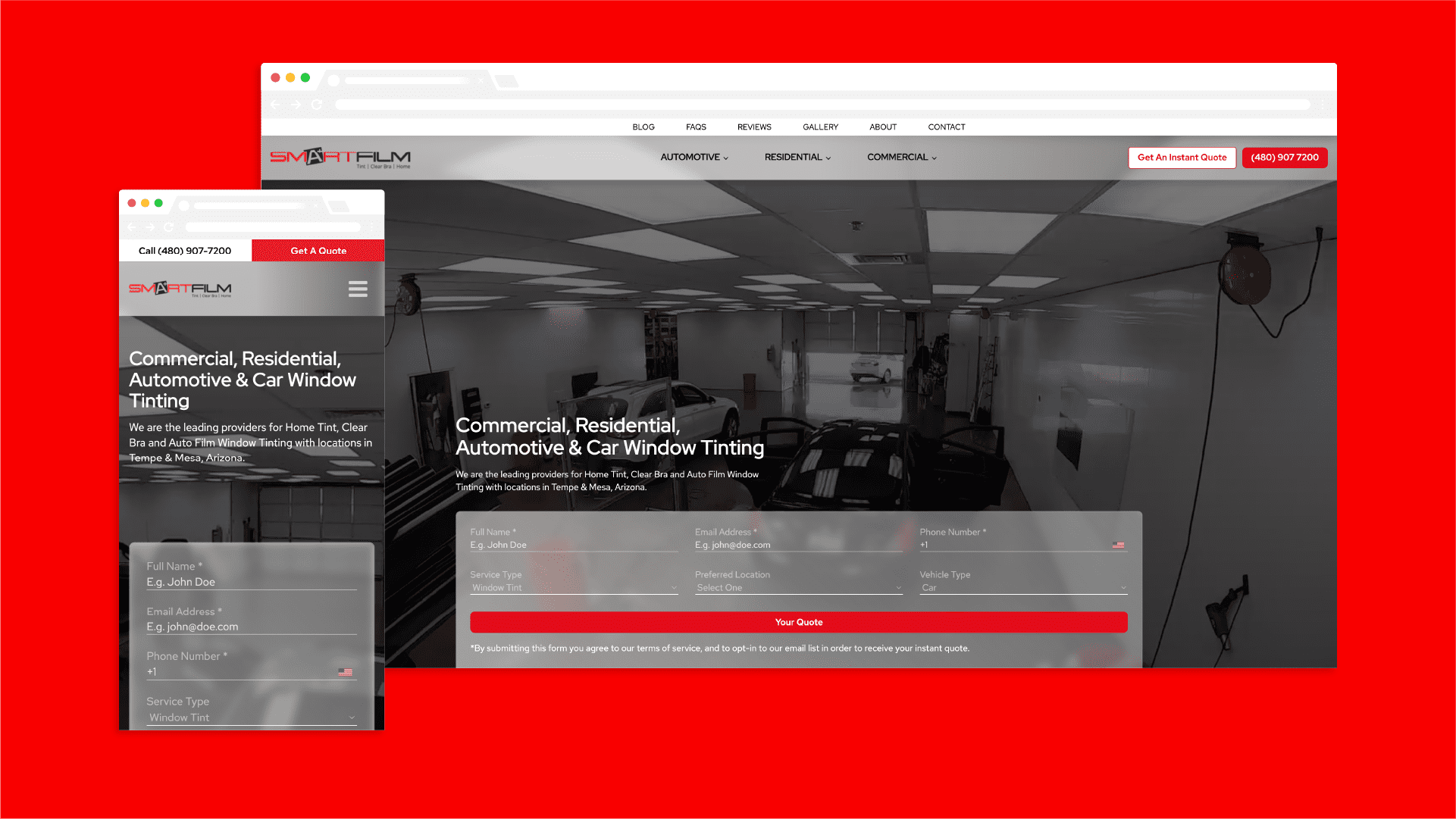 SmartFilm knew that expanding their physical presence from Mesa to Tempe meant their digital presence needed to grow as well. So, they enlisted Creatitive's help to revise their local SEO strategy. We started by building dedicated city-specific pages for both Mesa and Tempe. These pages were designed to attract local search traffic by using location-based keywords and providing relevant content about their services in these areas.
But updating their SEO strategy wasn't just about adding new pages. It also involved optimizing their existing web content to enhance visibility in local search results. We revised meta descriptions, headers, and content to include city-specific keywords. The aim was to create a more geographically relevant user experience, thus improving their ranking on search engines. With these changes, SmartFilm's digital presence now accurately reflects their growing on-the-ground operations, ensuring they're easily discoverable by local customers.
In the highly competitive market of automotive and building window tinting solutions, having a well-optimized Pay-Per-Click (PPC) strategy is crucial. With SmartFilm, Creatitive set out to supercharge their PPC efforts. We kicked off with a comprehensive audit of their existing PPC accounts, dissecting historical performance data to pinpoint strengths and weaknesses. Our team also undertook a deep dive into the competitive landscape, studying the PPC strategies of competitors to identify potential opportunities and pitfalls.
The outcome of our PPC optimization and strategic overhaul was nothing short of transformative. By implementing a mix of broad and long-tail keywords, we significantly enhanced the visibility of SmartFilm's ads, ensuring they appeared to the most relevant audiences. We also leveraged geo-targeting to hone in on the markets of Mesa and Tempe, leading to an increase in locally qualified leads. The results were clear: an uptick in click-through rates, an improved quality score, and most importantly, a higher conversion rate. This demonstrates that with a meticulously crafted and well-executed PPC strategy, even the most competitive markets can be successfully navigated.
After just a few short months, Smartfilm began seeing results from the changes to made to their site. The campaigns had improved their search engine rankings and increased traffic to their site. Monthly sales for the company have increased by an average of 30% due to connect inquiries, chat integration, local SEO, and PPC management.