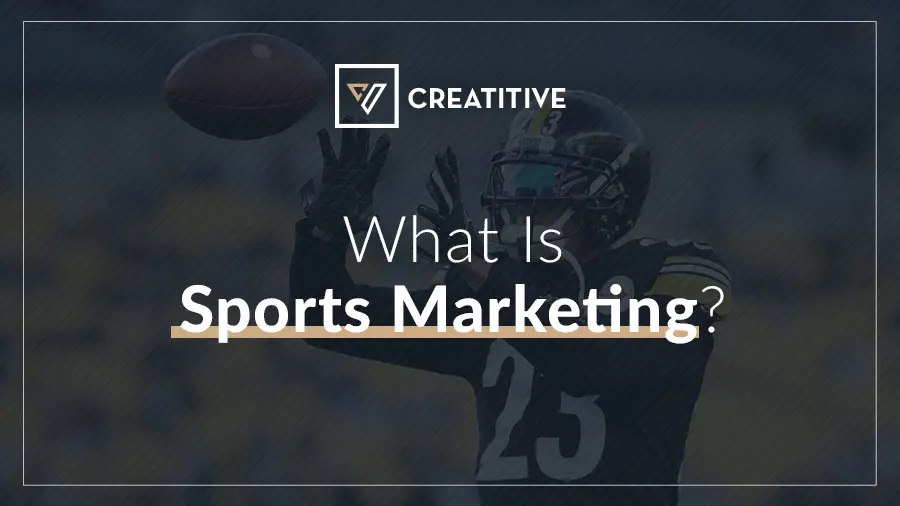 "What is sports marketing?" It's a question we get asked all the time. What is sports marketing about? It is bringing sponsors and athletes together to create long-term and profitable relationships. But though it might sound relatively simple on the surface, it's far more complex than you might think and, at Creatitive, we do things a bit differently.
What Sports Marketing Used to Be
Sports marketing companies have been around for a long time. And since their beginning, they've focused on helping businesses and other sports brands find athletes they can sponsor. This helps expand their target audience and helps increase brand awareness — the more people who learn about your brand the better.
What is the sports marketing definition before? The process worked because people across the world look up to sports teams with a reverence not often seen compared to other celebrities. For instance, if they wear a certain kind of shoe, someone will want to have those shoes too—especially if they are that person's favorite athlete. And if they drink a certain sporty beverage, you can bet that their fans will suddenly start buying that same drink. It's often known as sports advertising where sports organizations, brands, and other businesses partner with athletes praised by their target market.
When marketing sports, strategies used to be as simple as that. Sponsors got connected with athletes, or their marketing managers, that were interested or willing to promote their products and services.
And in return, professional sports athletes got something like an advertiser's fee and got the chance to promote sports. This could either be money or goods depending on the agreement worked out by the sports marketing agencies.
Those old-school agencies also helped promote favorite teams or athletes to increase attendance at specific events and grow their visibility in the community. This might involve creating a team website, updating event schedules, and monitoring social media accounts for trends or issues fans bring to their attention — but it's relatively impersonal. The agency's marketing strategies aren't always interested in watching the team grow and reach a broader audience.
The Creatitive Approach
Unlike most sports marketers, Creatitive has chosen to take a less traditional road in marketing sports. As players in the field, we like to think it turns the industry upside down.
Our focus is on building strong relationships between sponsors and athletes as well as helping athletes grow their potential by making them visible to sports fans online. But before we dive into sponsorship, let's discuss the athletes and teams.
We Build a Sports Brand
Every athlete and sports team is unique — and it's that uniqueness that sells tickets to sports events like the World Cup and cultivates a following. Unfortunately, not all teams and athletes are consistent when promoting themselves. Sports marketing professionals who don't have a clear vision of who they're trying to promote often need a brand.
Creatitive helps them figure out their brand whether they're a full-time professional athlete or a community little league. We start athlete branding as well as sports team marketing with market research.
Once we've established branding, we then create websites, social media accounts, and online content that stays true to who they are. Subsequently, this creates consistency across all platforms used for sports promotion.
We Focus on Performance of Every Sports Marketing Strategy
When sports branding has been successfully built, we start cultivating a solid online presence that will help that brand grow through sports marketing and reach new audiences year after year. This is accomplished through a combination of PPC campaigns, search engine optimization, and social media management.
When you're active online, not just on social media, and promote your brand consistently, you'll start to see an increase in fan engagement, ticket sales for sporting events, merchandise sales, and player recognition. This is the backbone to any successful sports marketing strategies and Creatitive ensures you'll be in the loop every step of the way.
Communication is key and, unlike other agencies, we want your input, your concerns, and your feedback. For us, it's a partnership.
Now, Let's Look at Sponsorship
All the ticket sales in the world aren't enough to bring consistent income to teams and athletes, especially during the offseason. You need sponsorships, but finding the right sponsor isn't as simple as it seems.
Athletes and teams need to partner with sponsors whose products they believe in, use, and can actively benefit from. Authenticity matters when selling sports. If promotions start to feel too manipulative, audiences feel off. So, it's must be remembered that your teams should support products that share the same morals and values they have.
Bringing Value to Sponsors & Partnerships
Sponsors want to invest in someone who can bring them money and recognition. They want players who know how to market and promote themselves on social media. That means you've got to have a strong online presence, a decent amount of followers, and a brand that showcases your unique attributes as a player.
Creating a strong online presence makes you look like a more attractive investment — which can result in getting more major sports sponsors!
Creatitive Helps You Market Your Sports Team
Once you find a sponsor, you don't have to manage the relationship alone. We'll help you with those sponsored ads, banner designs, and social media promotions so you can focus on doing what you do best: playing and sports management!
What Is the Importance of Sports Marketing?
So, what is the importance of sports marketing, you ask? Visibility. This is true for athletes and sponsors alike. When a sports marketing plan is successful, it increases visibility both in the community and online.
And with more visibility, comes more support. Sports marketing leverages the great devotion and energy that comes with fan loyalty into something productive. It turns them into potential conversions and opens your doors to the opportunity of expanding your reach beyond the field.
Ready to learn how you can market your sports team?
Contact us today
and set up a meeting with our sports marketers!