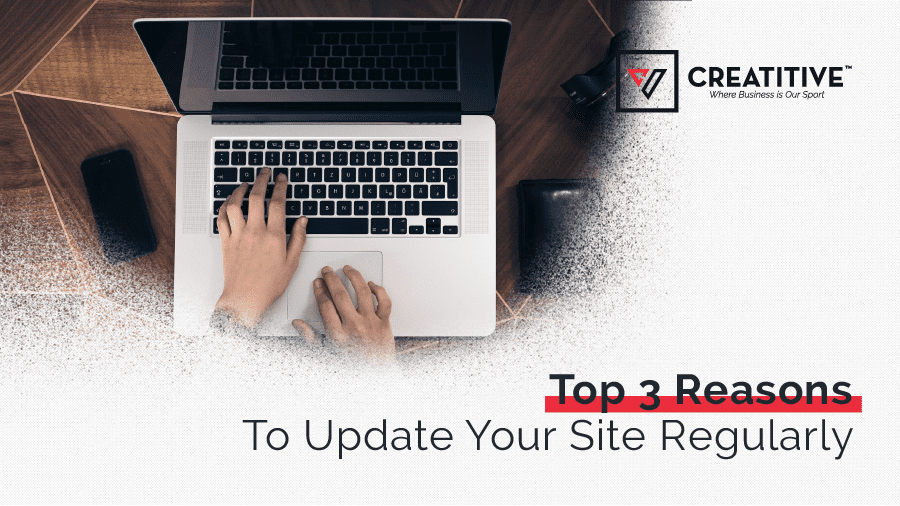 In today's world, having a website for your business is essential. Almost immediately, when someone receives your business card, sees a flyer you put out, or is referred to your company, the first thing they are going to do is look up your website to make sure your business is real and see what you have to offer.
However, just as important to have a website, is maintaining it. Why? Updating your website regularly is crucial for its performance. Many people think that a website is a done-and-over deal, but it's not. In order for you to get the most out of your website, and the financial investment you've made, you have to look after it and update it periodically.
Why Is It Important to Update Your Website?
Updating a website doesn't have to be an extensive or arduous process. However, it should be done. Even making small changes to a website can be hugely beneficial. Additionally, making little adjustments over a long period of time is much easier and more manageable than waiting a year and having to spend days taking care of your long-neglected site.
While there are many reasons to maintain a website, here are the three that we feel are the most important:
User experience
A website without a positive experience can actually be more harmful than it is beneficial. If your website loads slowly, looks outdated, or is hard to use, you're going to give off the wrong impression and your profits will suffer. Keeping your website up to date with technology and relevant information is important for providing a positive user experience.
Search engine optimization
How often you update your website can also affect your search engine rankings. Google doesn't want to steer its users to websites that are outdated and useless. You need to update your website with fresh content, graphics, and information to keep it performing well on search engine rankings.
Site security
You know that installing updates on your phone and your computer is important for security. A website is no different. Installing security patches is important for keeping your site protected from hackers and for fixing issues with bugs or glitches in the software.
No matter how you choose to go about it, whether you decide you want to handle site maintenance on your own or you enlist the help of a professional, updating your site is important. Generally, we recommend the second route because it ensures that all bases are covered, but it's up to you. However, you may find it useful to know that the cost to update a website is much more affordable than the expense to fix a broken site or rebuild a website completely.
If you take the time to show your website some love, it will love you back. Your search engine rankings will be better and so will your conversion rates and you'll be glad that you took the time to get it done.
Top reasons to update your website
Your website is a really outstanding tool and the most monetarily savvy technique to promote your service. Therefore, it is important that you upgrade your website and web design to keep it relevant for search engines, quick and mobile-friendly, and also safe so that your site visitors can avail optimum experience which will inevitably be your advantage.
Trends with websites are constantly changing along with potential clients, the demands of clients from years ago are not the same as today. Now people care about how responsive a website is, how amazing the content is, and how good its data security is. So if you are thinking about why you should update your website design, then the answer is simply to get on with the times and meet the demands of both your clients and Google.
1. Updating your web design provides better visuals
It is stated that a book is judged by its cover, in a similar way your website is your brand identity, what your visitors see there would impact your organization.
Your website needs to be an excellent blend of layout, functionality, and all adequate needed info with terrific UI and visual feel for users to see it as an expert organization. How you design your website reflects how innovative your company is!
Not redesigning an organization's website would certainly leave it without outdated web design styles and obsolete images. If you keep on your website your target clients would not stay long enough to browse, and that is called a bounce rate. You would want your bounce rate to be low as possible because search engines will know that your website isn't appealing to people.
2. Responsive and mobile-friendly design
A website may be functional but isn't user-friendly. Years ago, websites can only be fully accessed with a laptop or a computer, but since the usage of mobile phones is higher, Google has deemed being responsive an important aspect of website design.
Rapid development as well as the use of mobile phones have actually lead web developers to make websites more flexible for all devices. Websites should also be efficient in accessing social media data to provide customers more tailored options. These data called cookies are obtained while accessing a particular internet site on their desktops, smartphones, as well as tables and it tailors everything about the internet usage to form a much better user experience.
80% of sites worldwide have switched over to receptive sites and understood that it is the ideal option!
The responsive layout helps visitors to access a website on the move with perfect performance. It is basically one site that rules in all devices! A receptive website also makes it possible for a customer to see his favored site on any type of device without any deferments in loading the web page.
3. Updating your website helps with making it more secure, for your business and for your customers
Data security is the most spoken topic in technology industry. Yet do we really recognize what is data privacy and its importance? To this date, website is something that used to be free until eCommerce boomed. Hence, data security guarantees that every information and defense regulation are applied identically to every website The major goal of this legislation is to safeguard internet users and social media users from organizations that abuse their personal information and also hold them responsible for what info is shared, where as well as how it is shared.
When progressing towards conformity with data privacy, among your initial duties will most likely be upgrading your Privacy Policy documents to meet the new standards.
Keep in mind, despite whether your company isn't positioned in this part of the globe, you should comply with data privacy laws for your clients.
4. Update to modern technologies
Are you sure that your website satisfies the needed web guidelines or is your website completely suitable or is your resource code genuine?
The most core part of updating your website is to update its code and its coding requirements. With expanding technology it is a must to update your code if you do not want to be hacked.
The programming technologies that you choose, CMS that you are utilizing, and also third-party expansions or plugins need to be updated or altered on time if they are not suitable with the present upgrade or version. Updating the technology doesn't simply imply updating the coding with links to enhance the capability. However, to upgrade with all elements influencing the site. Nothing annoys a customer more than to visit the website with non-working functions as well as broken web links.
5. It will help with your SEO ranking and authority
Creating and or redesigning a website without SEO, is like driving a car without proper directions.
No matter how great your website design may be, but if it does not attract visitors' views then it is unusable. So we would suggest you use the most recent SEO policies that Google algorithm uses for placing as well as prioritizing. Search engines look for and also share data has actually been changed significantly. All the SEO methods which worked only a few months back are no longer powerful.
Years ago, businesses can be found in Yellowbook directories. Today, they can be found in search engines, and these web crawlers need responsive web design, optimized content, secured pages for them to put your website on top. So, if you still have qualms about the benefits of an SEO marketing service, remember that SEO runs the eCommerce world today.
Ask Us Why? Update Website Design Today
Don't have the time to update your website? Let the experts at Creatitive take care of it for you. We'll help keep your website up to date with new content and free of errors. Call us today to get an estimate on our services or schedule your free consultation.