Whether you're a sports business owner or a digital marketer, here's the sports marketing definition and how far sports' reach is.
Do you know the feeling you get when you watch your professional sports team play? Mixed emotions before the game, the heartbreak when your team loses, and pure happiness when your team wins the game? To some, watching sports events is a form of entertainment, while for others, it's a way of life.
With so many sports events right now for millions of people to enjoy, sports marketing is one of the most important pillars for these major sporting events. Sports marketing is a powerful tool that many major sports brands have leveraged over the years to go viral. Best of all, it works across virtually every dynamic sports industry.
There's something about sports that just brings people together like no other activity and that creates an amazing opportunity for brands. They can use sports to promote either the sport itself or the brand through the sports. It's all about connecting fans to unforgettable moments.
What Is Sports Marketing?
Sports marketing is a way to connect with potential customers through a shared love of sports. By using sports as a platform, businesses can reach out to people who might not otherwise be exposed to their brand. Sports marketing can take many forms, from sponsoring a team or athlete to advertising at a sporting event. The key is to align the company's values with the values of the sport so that the two can reinforce each other. Many businesses have profited through sports marketing.
So what exactly are sports marketing campaigns?
To simply put it, there are types of sports marketing: Marketing sports as a product, marketing through the promotion of sports, and grassroots marketing. There are many ways people consume sports, hence, sports marketing can take on many forms.
Sports marketing is a product that involves organizations planning, executing, and advertising sporting events. On the other hand, marketing through sports is making use of sports to sell one's products or services by focusing on the target audience.
Sports marketing is commonly used to increase business publicity, especially during global sporting events such as the Football World Cup, the Olympic Games, or the Super Bowl. One way this is done is by using "street marketing," which is through urban elements such as billboards placed on city streets, streetlights, and sidewalks.
The last type is the promotion of sports to the public in order to increase sports participation. It is categorized within social marketing, as this benefits the public. Increasing sports participation can have a lot of benefits for people, including improving physical and mental health, developing teamwork skills, and problem-solving skills, and providing social opportunities.
We have seen Coca-Cola use this form of marketing strategy through many different campaigns. And of course, how can we forget the popularity of Procter and Gamble's "Thank you, Mom!" campaign during the Olympics?
Why Does Sports Marketing Matter?
The sporting industry wouldn't be as successful as it is now without a sport marketing strategy. Amidst all the camaraderie, great games, and iconic players, the sporting industry is still a business gaining popularity. Sports teams, professional leagues, and clubs are able to pull off thrilling matches through ticket sales and sponsorships. Sports clubs are still here because of the loyalty of their fans and their respect for the game.
But now that things have changed, a sports marketing program has never mattered more than it is today. The competition is fiercer than ever, leading companies constantly seeking the help of sports marketing experts. And players who want to get ahead should know the importance of sports marketing strategy to the success of the dynamic industry.
If you are looking for a sports marketing program, say no more! We at Creatitive are your best pick as we have a marketing team focused entirely on sports marketing.
How Is A Sports Marketing Plan Developed?
Sports marketing campaigns that are successful tend to stay in the minds of customers for a longer period of time. On the other hand, an ineffective campaign can be considered a waste of money. All marketing efforts need to have a comprehensive marketing plan driving it if there is any hope for it to be successful.
The plan will begin by answering a few key questions, such as budget estimations and resources. Sports marketing can get expensive quickly, so companies will need to use their resources wisely. They will also need to establish a time frame for the campaign. Will it run for a week, an entire season, or involve a multi-year marketing effort? By answering these questions at the start, product managers can create a more focused plan and effectively market the same.
The company needs to analyze its product, its target audience, and how best to reach them. This involves understanding the customer and what they need or want. The sport marketing landscape is always changing, and it can be tough to keep up. Marketers need to be able to rely on scientific market research to help them identify the most promising opportunities and how to best take advantage of them.
Deploying Marketing Managers for Business Growth
A team of creative sports marketing professionals, a marketing manager, and an event coordinator will work on developing ads for advertising products whether by TV spots, social media, billboards, or radio ads. Research findings should determine the goals of the advertisements, but ad makers will develop the content that they think can best speak to the target audience. They will use team colors, slogans, and sports imagery to create a link between the product and the sport.
Once an ad campaign begins, the company will need to dive in and take a close look at how effective it really is. numbers don't lie, and increased sales, Twitter followers, and brand awareness are all great indicators of just how well the campaign is faring. These metrics should always reflect the goals that were established in the marketing plan. If everything seems to be going according to plan, then the campaign can be continued and even strengthened. However, if the numbers fall short, it might be time to revise the marketing strategy.
Loyalty is sky high with sports fans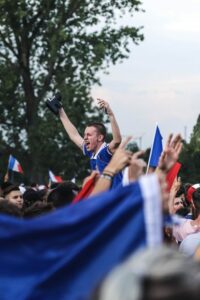 Engaging Fans
Do you have a specific team that you hold dear? Or do you have your favorite athletes? Favorite teams? Any particular sport you love? How do you feel about the sports products they endorse? As part of a fan base, you feel a kinship and a strong sense of loyalty towards the brands they promote. That is one power of sports over a sports fan.
Loyal customers
Loyal Customers are six times more likely to think better of your companies, are six times more likely to behave better toward your companies, are six times more likely to buy more of your products, are six times more likely to rebuff competitive offers, and are six times more likely to recommend your brand.
The loyalty fans have for their team and for their favorite professional athletes is unmatched.
If you have a favorite sport, club, team, or professional sports athlete, you've no doubt experienced this connection first-hand. When you see someone wearing a jersey that represents your people, whoever they may be, there's a connection. A kinship.
This type of loyalty doesn't exist in many industries. It's unlikely you've ever seen someone sipping on tea and struck up a conversation, "Say, that's my favorite brand too. I really like the undertones in this season's collection," yet that happens all the time amongst sports enthusiasts. Now, this is the power most sports marketing professionals and marketing managers are overlooking, the key to a successful sports marketing plan is the fans.
Marketing Through Sports Events
Many authors and organizations define the marketing of sports events and teams as "Designing or developing a 'live' themed activity, occasion, display, or exhibit sporting events to promote a product, a team, cause, or organization". In other words, it can be defined as creating a marketing strategy specifically for a live event with a theme. This is usually done in order to promote something, like a sports team or an association.
Different events can help show this concept, such as the Super Bowl, the Olympic Games, the UEFA Champions League, and the FIFA World Cup.
Sports brands are in competition with each other to be associated with the top marathons globally.
These events provide an opportunity for the brands to market themselves to their target audience and improve their marketing strategy. Social Media Marketing helps a lot with event marketing.
Sponsorship of sports events through businesses such as Adidas is a perfect example of how to market products through sport. By sponsoring FIFA, Adidas has made sure that its products are used by the best in the world and seen by millions of people. Not to mention, their logo is also printed on the side boards along the play-field, to manifest to sports fans what brand to look for when they need quality sports gear. Sponsorships are the best way to make your product seen and acknowledged by the industry and fans alike.`
Sports Brands can leverage this loyalty through athlete influencers and sports events
Not surprisingly, loyalty trickles over into things associated with a fan's favorite club, team, or sports stars, and of course, ticket sales. As people see these athletes wearing specific luxury timepieces, it enhances the visibility of the brands and helps cement them as world-class leaders. Obviously, not everyone can afford a Rolex or Richard Mille, but that's the point of getting the watches on the wrists of elite athletes; to demonstrate the exclusivity of the brand. Conversely, Nike often pairs with everyday athletes. Sport management at its best.
The brand loves to showcase stars who came from traditional backgrounds and rose to greatness through talent and perseverance. By extension, the fans of athletes donning Nike brand apparel then associate the brand with triumph, and they also begin wearing it because it makes them feel like they're part of the professional athlete's team. They, too, are winners.
Whether it's clothing they wear, phones they use, shoes they run in, or food they eat, fans want to emulate the athletes they feel a connection with. Sports organizations and companies know this. Quite simply, working with athlete influencers can achieve any number of goals, from increasing loyalty to generating more brand awareness, getting more website hits, moving into new markets, or appealing to a specific sports marketing audience. These things naturally result in greater sales and sports marketing profits.
Impact of sports marketing strategies on companies and organizations
Without sports marketers, sports would not have as much of a wide-range impact on the world today. Many sporting events rely heavily on the campaigns developed and implemented by their sports marketers. Otherwise, how can one support their favorite football club or attend games without a sports marketing strategy promoting these sports clubs or sporting events?
It would be impossible for sports to entice huge crowds to watch a game without a marketing strategy.
How has sports marketing changed over time? Sports marketing is not something new. In fact, it has been going on for the past century since sports became a profession. Sports events all need sports management persons to take care of everything. From athletic administration to event marketing, a sports marketer would help even with your public relations.
Think along the lines of advertisements broadcasted through the radio, newspapers, and later, through television. Now, with the advancement of technology, there are many more channels that sports marketers can tap into. This includes the likes of the internet and social media.
One of example of an efficient sports marketing strategy would be how football clubs have embraced social media as a powerful tool to market their brand. From attracting new fans to promoting upcoming matches and also running campaigns, they've taken their marketing online on popular social media platforms.
Every day, a large number of marketing managers are building their careers by providing sports marketing services to a host of brands and athletes.
Future In Sports Marketing
As we move into the future of sports marketing, we'll see that the teams, athletes, schools, and brands that can create a strong human connection with their audiences will be the most successful. This connection is incredibly powerful, and we're going to see more and more content from athletes on their social media. Teams and schools will also continue to look for ways to expand the fan experience beyond just watching games in person or on TV.
Conclusion: Athletes And Sports Teams Need Professional Marketing Strategy By Non-traditional Sports Marketers
This is essentially what sports marketing is. It is more than just fans watching their favorite sports teams, may that be a baseball game, a basketball game, the World Cup, or any other similar sporting event. It is what happens behind the scenes, what happens before the actual event itself. More so, it is about the power of sports to unite people of different backgrounds toward one common interest. Sports marketing has been in the market and will be in the market for a very long time.