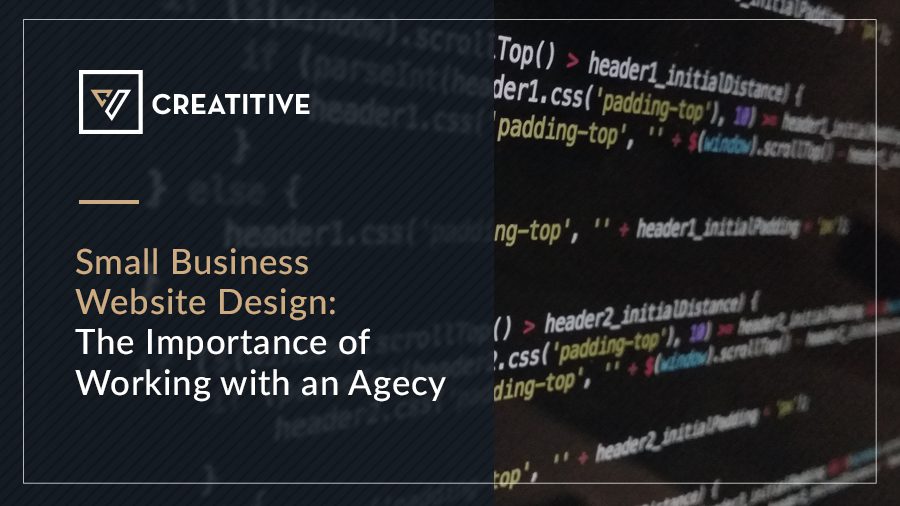 If you look at the most successful businesses in your industry, you'll notice that they all have one thing in common: a great website. Sure, there are dozens of platforms that claim you can design your own website in a matter of minutes, but that doesn't mean you should. In fact, doing so will leave you with an underperforming and truly underwhelming site that actually drives visitors away from your site and your business.
Why Does Website Design Matter to A Small Business?
In this ever-evolving world of technology, consumers turn to the internet much before making their purchase decisions. In fact, they search for relevant product information even before shopping offline. This means that a website's UI and UX are essential for today's businesses, especially if they want to stand out from the crowd.
That said if you are a business owner thinking about lead generation, redesigning your brand's website is highly recommended and is your golden chance. Why? For starters, a properly designed website can help you rank better in Google's search engine page results, and make you reach out to your target audience. More importantly, your website is your storefront; you will benefit from making it look attractive and appealing.
A well-designed website with easy navigation, relevant content, enticing call-to-actions, and a user-friendly interface will give you an edge over your competitors. So, if you want to increase your conversion rates, you must hire qualified website designers to strategize your website design.
Web design is complex. It's like selling a car, it could have the most amazing engine, but if the structure or skeleton is hideous, people will lose interest and won't buy it.
From the content management system to the placing of displayed ads, to 360-degree optimization for search engines — there are too many aspects to consider in website design. But when done right, these elements can give wings to your business and help you boost sales and gain profit.
Letting an agency handle your small business' webs design is one of the best things you can do and here's why.
It's What They Do
Agencies specialize in small business website design. They know what works, what doesn't and can set you up for success for years to come. It's where their skills are just like yours are in running your business.
Custom Website Designs Matter
Have you ever browsed through some website design examples and noticed that their landing page all look alike? It's because they're built with standard (and often free) templates. This can make it hard for clients and customers to tell the difference between your site and your competitors. When you work with an agency, you get a custom design that fits your goals and your unique brand.
Saves You Time in Design
Even with the simple "plug and play" free site builders, you can expect to spend days setting up your website. That's not including maintenance, updates, and installing security measures to protect your information. Working with an agency for your small business website needs will save you time. You'll be able to focus on doing what you do best—running your business.
They'll Optimize Your Business Website
SEO or search engine optimization is key in helping your business's online reputation grow and thrive. When you trust a website design agency, they'll take care of the initial SEO process for you. 
This means your site will be viewable on computers and mobile devices right from the start. And it will lay the foundation to increase your rankings in search engines as soon as the site goes live. This means less work for you down the road and better performance right from the start.
Benefits of a well-designed website
As mentioned before, your eCommerce website is your storefront. If you have a well-designed site, you have a platform to reach out to your audience and provide them with relevant information and quality products/services. 
So, in a nutshell, it is like owning a physical shop, which means you have to work hard to make sure your store appeals and attracts the right audience. And when you work with a website builder, you move a step forward in providing your target with something different — something that makes your brand unique.
Your website represents you and your brand — it helps customers know what your brand stands for. It's through your site that people get to know about the products and services you offer. It differentiates your brand from other competitors in the market. Hence, your website deserves the utmost attention and care.
Your website also builds customer loyalty. When your online store's website appears relevant in terms of content, design, and products to your customers, it helps them trust you better. If your website addresses to users' complaints and queries, offers them an interactive interface, it helps build credibility.
By staying connected and listening to your customers, you portray your brand to be accountable. That said, users trust businesses that know how to accept ownership.
Lastly, it attracts more people. Well-designed, well-built websites usually attract people. So, if your website has easy navigation, is optimized fully, offers relevant content, accept payments, users may visit your website to check out your new products and read your blogs ( even when they are not actively shopping). 
If you keep them engaged, they will keep coming back for more. And who knows? Regular site-visitation will give you leads, who will convert to clients and clients to repeated customers. Great job!
Schedule Your Consultation Today
In today's world of digital marketing, everybody is digitally equipped. Everyone, trust me us when we say this, literally everyone does everything through the world of web. From studying to shopping, everything is done online, and hence, having a well-designed website is so crucial.
You need a high-quality website with an attractive interface to spread your brand's awareness. You need it to build a customer following and offer them what they are looking for. Without it, you can't grow business in today's world.
Stop putting off your small business website. Contact us to see a few of our website design examples and to schedule your free design consultation. Let our experts create a site that will grow with your business.