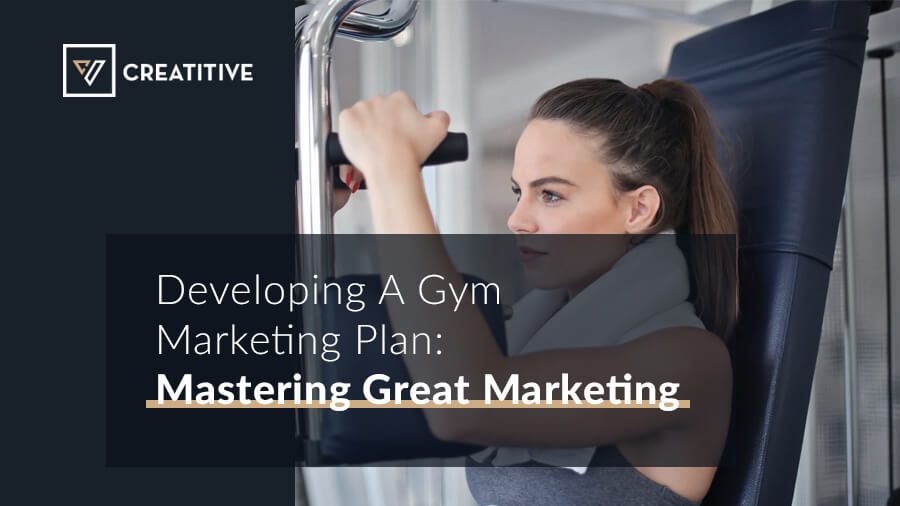 In the previous years, we saw several trends come and go, but if there are one trend experts believe will make a comeback after this past couple of years, it's fitness. This is what makes having a great gym marketing plan so important.
There's an increasing need for fitness centers as the largely unhealthy population of consumers hope to start their fitness journey.
Most fitness marketing ideas and wellness ventures start with great passion—for the genre, for sharing a love of the field, or wanting to offer access to a broader audience. Once the idea of launching a business strategy is planted, gym marketing is the next hurdle of every gym owner in the fitness industry.
Out With the Old, In With the New
With the advent of technology, marketing strategies for gyms and other similar fitness businesses have significantly changed. If we look at the fitness industry and specifically at gyms, we will notice a common pattern.
The pattern is that most gyms promote similar if not the same message. It varies from brand to brand, but most sound and look the same. Most competitions are so identical as to be indistinguishable from each other.
Today, a robust fitness club and gym marketing strategy are essential to keep up with the times.
And as the demand for health and wellness grew, so did the market. The number of traditional facilities like gyms grew increasingly, making competition harder than ever. With this in mind, innovators pioneered a new breed of fitness clubs.
Instead of simply focusing on cardio and weight training, specialty fitness centers offer training pieces that focus on one particular style of exercise. Both boxing and kickboxing franchises rose to popularity alongside yoga centers. And within a matter of time, the variety of workout routines and fitness clubs grew.
Despite this, aspiring gym owners shouldn't be intimated; they should be excited. While it may be true that the market is saturated, the opportunities it offers have expanded and will continue to grow as potential clients jump on the bandwagon of staying fit. This certain drive should be at the center of any fitness marketing campaign.
To ensure that you and your fitness business get recognized by everyone, you should develop a gym marketing plan that's sure to catch everyone's attention not just your existing gym members.
Achieving the Perfect Marketing Plan for Your Gym
Behind every successful fitness brand—or brand, in general—is a well-built fitness marketing plan and layers of marketing strategies. Without great marketing campaigns, our favorite sports brands like Nike and Adidas wouldn't be as big as they are now.
That's why budding gym owners should spend much of their time learning gym marketing ideas as much as they spend on personal training. As a business leader, you need to take advantage of this.
While it may be true that creating a marketing plan for a fitness club can be challenging for those unfamiliar with digital marketing and the different marketing strategies, its initial steps can be pretty easy, especially when you are already a personal trainer or gym owner yourself.
Generalities must be left for those who can invest millions into their complexes to have everything: weight rooms, collective activities, pools, spas, courts, etc.
This is based on a financial disbursement that is not accessible to just anyone. This is why it's essential to know the gym's strong point (or what it could be) and then focus on that and strive to be the best for gym members and potential customers.
Clarify Your Fitness Marketing Plan's Objectives
Like any strategy, marketing plans start with the why, what, and how. These three elements will act as the foundation of your entire fitness and gym marketing plan. Gym owners and personal trainers should start by settling down their primary goals.
For instance, decide whether you want to grow your business by attracting potential customers or just focusing on raising brand awareness. This is something most fitness businesses fail to do.
Though it can be tempting to add more than one goal, it's best to pick one and focus there. Your overall goal will determine both your marketing strategies and your objectives. For instance, if you want to increase brand awareness for your fitness club, then your four objectives would be:
Increase website traffic
Increase local search
Increase social media following
Attract new members
Brainstorm Unique Ideas For Your Marketing Strategies
Once you've decided on the campaign's main objectives as a personal trainer, it's time for you to think about how. Take a look at the different marketing strategies for gyms and the wide variety of fitness marketing ideas and see which of them is the most appropriate.
For example, you can look at referral programs to address your fitness business needs for brand new members. Brands that want to improve brand awareness will have to look into the different marketing channels they can use—like local SEO—to increase visibility.
Don't be afraid to make phone calls to fitness marketing experts for consultations.
Admittedly, knowing which marketing strategy would work best for your objectives can be tricky, especially if you're no expert. So don't be afraid of reaching out for some help about gym marketing ideas and applications.
Social Media is an Essential Component of Your Marketing Strategy
In gym marketing, it is best to start maximizing the power of social media platforms.
You can put your fitness club online to tap into a broader reach of a target audience. As a gym owner, you would be thrilled that Facebook ads are well within your marketing budget, and it also influences how you rank on search engines.
The best way to inspire people to sign up or try a new studio or gym is to change the way we market by creating content that inspires and helps people change their habits. Nobody talks about changing habits in the industry. This social marketing strategy can be expanded in many ways, from creating blog articles, podcast episodes, and micro-content for social media.
Yet one of the challenges we all face is changing our habits. Nobody talks about trying new things and exploring. Yet if you are a unique boutique studio, you want people to explore and try out new things.
After finalizing your gym marketing ideas and fitness marketing strategies, you can discuss in detail the tactics you'll be using. This would include examining the mechanics for certain promotional efforts such as referral program outreach and personal training guides, deliverables for digital marketing efforts (search engine optimization and social media marketing), and the different channels you'll be using.
Videos as Part of Your Gym Marketing Campaigns
Additionally, people like to see how the products they buy are made. They want to know what their favorite celebrities do when they aren't in the spotlight. And they appreciate truthful insight from the brands they follow.
Video marketing is an excellent way to give your followers and potential clients a genuine feel for who you are as a person and what goes into the service they buy into.
Don't worry about being too perfect on your social media platforms. Aim to be genuine, honest, and transparent. This will make you a relatable and trusted fitness business. People buy from people and businesses they trust and think they understand them. Y
ou can give your viewers a tour of your gym, demonstrate the use of new equipment, insight into the program design process, brainstorm with your team, connect your personal trainers, analyze your future gym membership goals, or take a snapshot of a session with your clients.
Lastly, gym memberships, do not forget to put necessary information about your gym and fitness business, such as an address, phone number, and business hours. It is the primary thing you need to know when marketing your gym.
Social media marketing should be your go-to digital marketing strategy in the ever-competitive fitness industry with gyms and fitness businesses.
Developing a Clear Vision & Getting Your Team Onboard
The final part of an efficient gym marketing plan is determining your measurements of success. Each gym marketing tactic should have its metrics so that you'll know whether it was successful or not. And these metrics should be in line with your objectives.
A fitness marketing plan would only work with clear directives and targeted goals.
For instance, your new content marketing campaign posts might've earned a lot of clicks this month, but if it was unsuccessful in moving people to contact you, then it probably failed. It is also the same with social media marketing and your referral program, and other gym promotion ideas.
You need to check all your marketing channels. Are there new members? New customers? New clients? How are your gym members?
Understanding who your ideal clients are is essential. So is where they live, their age, and what topics they are interested in.
You can use these metrics when creating your target audience on Facebook to reach the most likely people who are already looking for your services. When your audience is not specific enough, the ROI of your ad will suffer significantly.
Don't feel discouraged if your first few attempts won't bring any results to your fitness clubs. Look at it as a learning curve towards identifying the audience that will engage with your offer and act on it.
When you target the right people with your gym marketing strategy, you will reach leads that can easily convert into revenue. Additionally, Facebook ads are measurable. This will allow you to see the number of people who have clicked on your ad and share it in real-time. You'll also have a chance to view whether there were any clicks on your website.
These metrics are supposed to tell you what worked and what didn't. To successfully do that, it needs to be in line with your objectives and your main goal.
Analyze, Adapt, and Advance
If you want to move deeper on gym marketing strategy, you can interview your current members about their fitness journey and your potential members to gain consumer insights. Once you have consumer insights, you can create better content.
How do you think big brands create such outstanding campaigns? Do their ideas come from thin air? No, they do a lot of consumer research, data, analysis, and execution.
One of the main reasons we categorize gyms and studios is because they look the same, their tone of voice is the same—there is no distinction.
The Only Way is Up: Market Your Gym Online
As mentioned earlier, creating a gym marketing plan for a fitness business is easier said than done. Though budding fitness brands can opt to do this process by themselves, it begs the question of whether DIY is the right way to go. Admittedly, gym owners can partner with a marketing organization, but at the same time, the costs could be pretty high—but this doesn't have to be the case.
There are digital marketing companies that offer cost-efficient services to smaller businesses. Additionally, some of them also offer free consultations. So if you need any help on certain decisions for your marketing plan, there are experts more than willing to help.
While it may be true that doing your fitness marketing plan on your own can save you money, nothing beats expertise. These gym marketing organizations will always prioritize what's best for your business. Should they see anything that can jeopardize a campaign, they immediately act on it.
Furthermore, gym marketing experts can help you achieve omnichannel success through consistent marketing. Unlike other marketing goals, a successful omnichannel campaign can only be achieved through consistent strategies.
And because marketing companies often offer services that range from graphic designing to content writing, clients don't have to worry about consistent marketing. They will ensure that even the minor details align with your goals, and you will get new members for your fitness business.
It's not about having millions of members, but about those hundreds of habitual ones you would want to keep using your facilities faithfully. These client relationships grow and bring in more business, and you might not even notice.