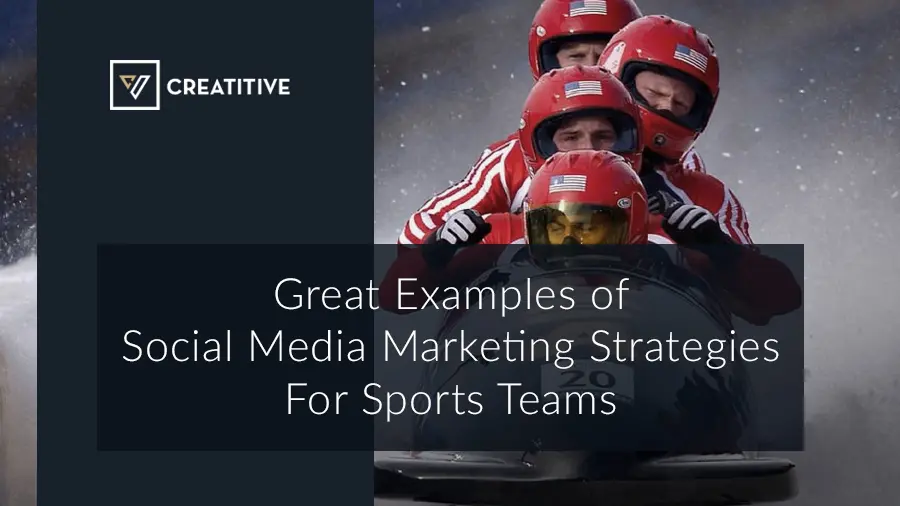 Much to the surprise of a lot of sports fans, social media and sports have gotten along very well over the recent years. Sports events feel incomplete without the different types of content made available to the fan base through social media platforms. All the while marketing strategies for sports teams have considered social media a must for their marketing efforts. 
Ultimately, social media and sports marketing have become pretty much inseparable — and it's not really hard to understand why. During a time when engaged fans means everything to a marketing plan for professional sports teams, knowing how to leverage social media management is detrimental. 
That's why today, Creatitive is here to take a look at some of the leading examples of social media marketing strategies for sports teams! Learn how user generated content and real time updates can change the game for you and your team. 
But before anything else, let's take a look at the role that social media plays for the ultimate sports fan experience!
Social Media; The Perfect Game Companion
The emergence of the Internet meant change — for a lot of things. And that includes the age-old tradition of game companions! Back then, fans engaged with their favorite players by being in the actual match but nowadays, social media platforms have become their perfect friend!
Generally, both sporting events and sports teams used Facebook, Youtube and Twitter as their top three platforms for content marketing and other sports marketing strategies. But ultimately, it was Twitter that led the game. 
While each of them had their own assigned area — Facebook for posting information and promoting upcoming events and Youtube for sharing video content — Twitter's micro-blogging aspect made it the perfect venue for real time updates. The platform was used to share quick information easily. 
Unlike in the first two aforementioned platforms, Twitter made reaching target audiences less time consuming. It became a commonplace for the sporting industry — so much so that it didn't take awhile for sports teams to start using the platform to share launches and more. 
Ultimately, social media platforms are great avenues for brand awareness as well as long-term consumer retention. It allows sports teams to strengthen their relationships with their existing fans while attracting more new supporters!
Teams That Changed The Game
Admittedly, it's easy to get confused by the different takes on how sports teams should engage crowds on social media. So instead of wondering which advice to take, Creatitive has listed down some of the teams that are changing the game online!
Let's check out each of their accounts, starting from Twitter down to Instagram and study their strategies carefully! 
NFL's Carolina Panthers
Considered to have one of the most fun and clever social media personalities in the league, the team is not afraid to go beyond their comfort zone to entertain fans!
In a recent Earth Day celebration, the team jokingly poked fun at the Jaguars and earlier that year, they left parts of the "Fresh Prince of Bel-Air" theme song in their tweets for consecutive days! And when fans learned, almost everyone lost it!
They made their account the go-to one on Twitter when things are just too serious and too stressful for their fans. 
NFL's Minnesota Vikings
While the Carolina Panthers thrived on Twitter with witty tweets, the Minnesota Vikings dominated Instagram by providing their fans with a wide variety of entertaining content that includes off-beat videos, funny cartoons and other photos and videos!
https://www.instagram.com/p/BaCnxmojCv0/
The team's account showcased what it's really like to watch them play at their M&T Bank Stadium. Furthermore, they wrapped things up with some user generated content through their Vikings Instagram Group!
https://www.instagram.com/p/BaCFBxzj72W/
NBA's Atlanta Hawks
Switching to Facebook, the Atlanta Hawks used the platform to provide their fan base with direct access to them through behind-the-scenes videos or live chats! Once again these are great examples of marketing strategies for sports teams.
The team utilized their account to interact with fans, giving them a chance to hold their own Question and Answer portion on the platform!
https://www.instagram.com/p/BZ1XHGXFAcR
NBA's Sacramento Kings
Hailed as Fast Company's Most Innovative Company in Sports, the Sacramento Kings used cutting-edge technology such as 360-degree videos and augmented reality for storytelling.
It's "Sacramento Proud" campaign heavily resonated with fans after they opened the Golden 1 Center and their "Where Proud Is King" followed the momentum of the campaign afterwards.
https://www.instagram.com/p/BaYVaUVFN3S
The Magic of Social Media
Aside from the obvious intent of brand awareness and relationship marketing, investing on social media accounts brings another great opportunity to the table — sponsorships!
As we've mentioned earlier, engaged fans means everything to everyone, and that includes major sports brands looking to strike new deals with the hottest teams. One of the major deciding factors when it comes to offering sponsorships is the club's social media following.
If you are able to cultivate a loyal fan base online, sportswear companies won't think twice about working with you! Keep in mind that these brands are hoping to increase their brand awareness as well. They love working with teams who can help them on this agenda.
Ultimately, social media marketing strategies bring endless opportunities for teams, if leveraged properly! Learn all the great benefits the internet offers by setting up a date with us.