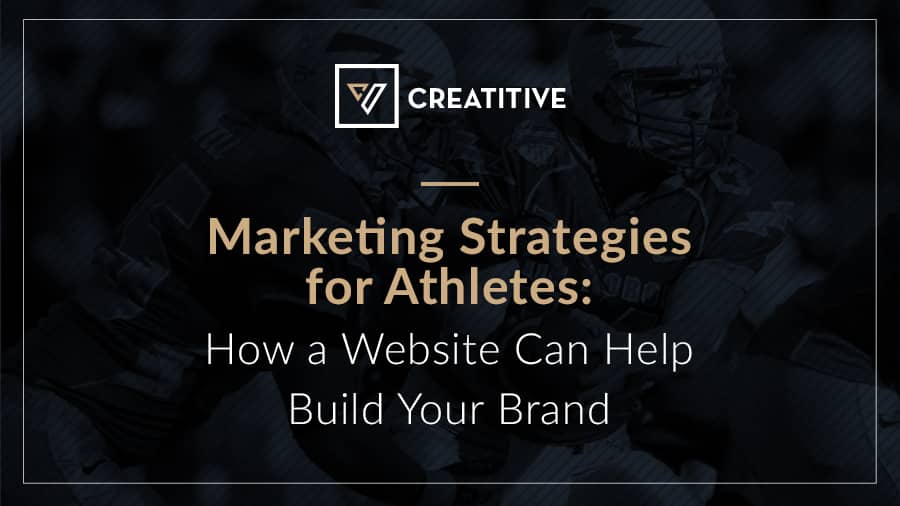 For athletes, branding and marketing go hand in hand. Branding is key for establishing your identity and building recognition in the world of professional sports. But a brand that remains hidden has very little use. You have to get the message about your brand out there in order for it to be effective. Once people recognize your brand, they're more likely to invest in the goods or services you have to offer, which can be anything from purchasing products to sponsorship opportunities.
That's why it's important as an athlete to have your own website. When it comes to marketing strategies for athletes, a website can be a very powerful tool. A website not only can help create your brand, but it can also increase awareness of your brand and your accomplishments as a player.
Using a Website as Branding Tool
Despite the common misconception, a brand is much more than a logo. A brand includes both tangible elements like a logo to intangible elements like a persona. A website is an easy way to create both tangible and intangible branding elements and share them with the world. There are many elements of a website that can be used as a branding tool including, but not limited to content, color scheme, design, and layout.
Content
The content you put on your website allows you to control how you interact with fans and how they interact with your brand. Blogs, videos, and imagery can all be used to craft your brand persona. They're also a great way to communicate with fans, potential sponsors, and buyers.
Color scheme
Color is an important part of branding since it affects our emotions in many ways. For example, the color red can trigger emotions of joy or love. Whereas, white may be a reminder of purity and cleanliness. Using color in different ways on your website can help you tap into the emotions of your audience and reach them on a personal level.
Design & layout
Layout and design determine how your users interact with your website. They can also be largely reflective of your brand. If your brand persona is more on the serious side, maybe your layout is straightforward. However, if your persona is more laid back and humorous, you may have more interact features. For athletes, website design is crucial for branding.
How a Website Can Increase Brand Awareness
Once you have a website in place, including all the various branding elements, you can then use your site as way to get the message about your brand out to the world. The more that people are aware and familiar with your brand, the more likely they are to invest in your products or in you as a player.
The key to having a successful website is generating traffic. Traffic not only means larger brand awareness, it also means more leads and sales. Here are just a few ways you can increase traffic to your website to grow your brand:
Print collateral: Placing your website url on your business cards, packaging, etc. can help bring traffic to your site which will allow people to develop familiarity with your brand.
Social media: Chances are, if your an athlete, many members of your audience are active on social media. Linking your social profiles and posts to your website can help increase traffic, which may eventually or immediately generate revenue.
Content marketing: Content is a key factor that determines where your website ranks on Google. The better the ranking, the more visits to your site, which is good for your brand. Content marketing strategies like email blasts, blogging, and social media are also a great way to generate additional traffic and showcase your brand.
Additional strategies: There are many other strategies that you can use to increase the flow of traffic to your website. An athlete marketing agency can help you determine which strategies are best for you. A sports marketing agency will develop a specific marketing plan that caters to your needs as an athlete.
There are truly many ways that you can increase awareness of your brand. But there are few tools that reach as many people as a website. And a website is also one of the most effective strategies as well. Having a website opens up a whole new world of possibilities.
---
Discover New Possibilities for Your Athletic Career
Curious to know how a website can help you further your athletic career? Let's schedule a time to talk! I would be more than happy to sit down with you for an in person meeting or phone call to talk about a website or other marketing strategies that can help you grow your success as athlete or entrepreneur. Just give me a call or send me an email and we can set up a time that works well for you.