A content strategy template helps you set up the standards of your content, and it will allow you to justify why you are creating it.  This article is about the insights of Building a Content Strategy, and it´s a contribution to our passionate audience, which is always trying to be on top of the game.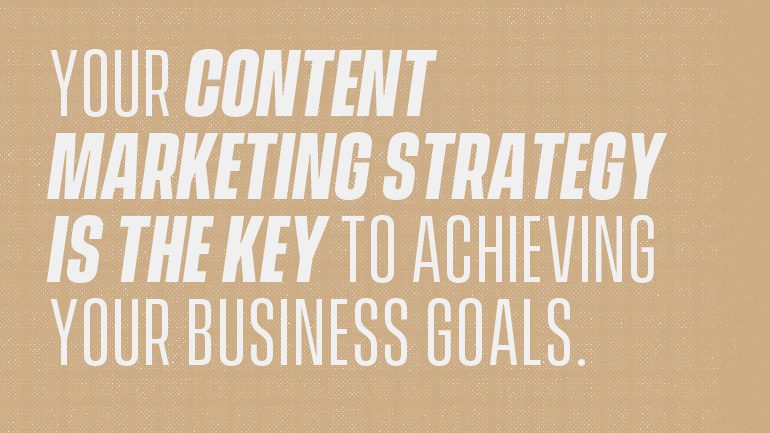 What is the importance of building a Successful Content Strategy?
First things first. Set up your goals. Then you can start building a content strategy. After that, you can outline the tactics you will use. What are the differences between these concepts? Let´s review these core elements, so we are on the same page :
Goals: What you want to achieve.
Strategy: A plan or method designed to achieve a certain goal
Tactics: The concrete ways in which you execute a plan.
Now that we have cleared this up, you can start building your strategy template. This way, you will design a plan and choose the best tactics.
Why Do You Need to Develop a Content Marketing Strategy?
Building content marketing is a must. The time small business owners take on this is a big investment. Make sure you revise it with new feedback and even remodel it according to your needs. Your content marketing strategy is the key to conquering your business goals. 
A well-thought-out content strategy helps you to:
Plan a content calendar based on previously identified opportunities.
Keep tabs on the competition in order to always be one step ahead of it. 
Build a creative connection with your audience by consistently creating content that fulfills your goals.
Show this content in a variety of formats and channels to keep your audience engaged.
Understand precisely who your audience is and which content they prefer to consume.
Content marketing has been one of the main tactics that drive businesses toward success. And it is one among a whole universe of tactics that you can deploy. By designing a fully-fledged content strategy, you can use several tactics at once and develop your business in a quicker, more structured way. You can expect to:
Rank as a winner on the Search Engine Results Page (SERP) for your target keywords and catalyze steady growth in organic search traffic.
Keep your audience tuned to your social media channels and integrated with your social media strategy.
Be authorized to speak as an expert and a cutting-edge specialized leader in your niche.
Turn your site's browsers and readers into customers.
Remember: to succeed online, and you can't miss the effectiveness of content marketing.
A 6-Step Template For Creating a Content Strategy
You might be wondering now how you start to design a content strategy. If that's the case, don't worry. We want to share a content strategy template that will align your goals with an MVP plan.  Before you come up with brainstorm content ideas, make sure to understand and follow each one of the six steps!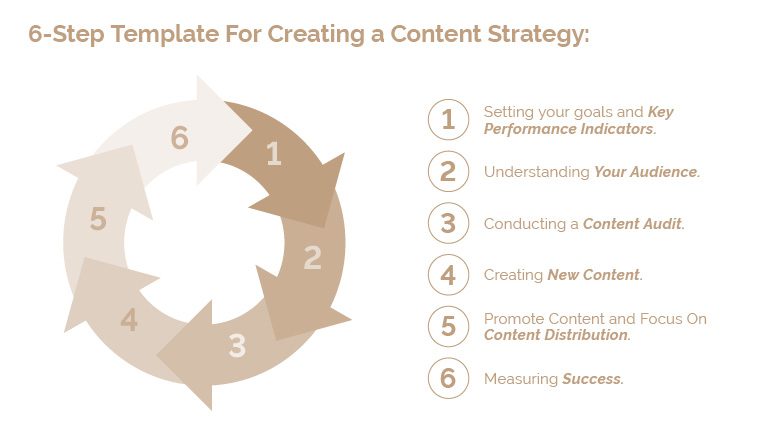 1. Setting your goals and Key Performance Indicators (KPIs) 
Think about what you want to achieve. You must also consider your marketing approach. Here are some goals you might consider for your strategy:
Increase organic traffic
Define a target audience of potential customers
Reduce your cost-per-acquisition by targeting an audience who is ready to buy.
Increase brand messaging and visibility or market share.
Rule of thumb: Setting goals is always the first step in any content marketing strategy. 
Some of the industry's leading minds recommend creating goals that are S.M.A.R.T. You´ve probably heard about this before.
Specific: Goals ought to be concise and precise in the content creation process
Measurable: If the goals' progress can be measured in a content strategy framework, you´ll know exactly when one has been accomplished or delayed.  
Attainable: Be realistic but challenging enough to keep you passionate about the content strategy process.
Relevant: Content strategy goals must respond to your business objectives.
Time-bound: You´ve got to achieve goals within a measured timeframe in any business model. 
2. Understanding your Audience 
Although we might be led to think that intuition is all you need to understand your intended audience, the truth is that it's quite more complex. It requires research.
Here is what you are expected to do:
Create several different personas according to the various audiences that your business strategy is targeting. Use google analytics to outline a profile for each target audience (you can even give it a fictional name and an avatar), and consider these categories: Persona Demographics, Professional Status, Psychographics, Pain points, Influences and information sources, and Purchasing processes .
3. Conducting a Content Audit
Part of a successful content strategy is to take a deep look into your existing content: blogs, articles, guides, etc. Did you know that most, if not all, websites can be revamped and optimized?   That is content management.
Make sure your content strategy team prioritizes usable content located on your website to find Keyword gaps with the help of a content management system. Then, rewrite blogs using tools to turn them SEO-friendly such as Surfer SEO, SEMrush, and Ahrefs.
It'll be a fresh start. Visitors will engage with your newly remodeled website and will have an easier time finding high-quality content. Pay attention to the tone, format, and structure of your content production. Always prioritize valuable content you already have instead of making more of it.
4. Creating New Content
Identifying keywords and topics for your new content is crucial for a successful content marketing strategy, but you also need to take the time to organize these pieces properly. Mostly, creating content is prepared and written by different experts. By planning your content production thoroughly, your copywriter will know exactly what you need from an article or a blog entry. So planning entails:
Analyzing and understanding search intent in website traffic
Designing content briefs that a copywriter can follow cleanly and precisely.
Analyzing Search Intent
This step answers one question: what are people looking for in the top-ranking content in a browser's search? This is called the intent of the content. Once you have studied it and found some results, you can move forward by creating new articles that adjust to the intent of the content. It is helpful to analyze the top 10 pages in the search order of your main keywords.
Let's just google your main keyword. What's the intent of the top 10 ranked pages? These could be: 
Transactional
Informational
Navigational
If a searcher intends to find information, then you can reward them for visiting your website with some long-form informative piece. In addition, if a searcher's intent is transactional, give them value in that way.
If your content creation follows the intent of the best-ranked pages, the browser's search will reward it better than if you let yourself be driven by sheer creativity and audacity. Stop for a moment, understand the trend of the industry blogs and create compelling content that will bring more value to Google explorers.
Building a Content Framework
Take advantage of the benefits of a Content Brief to make your copywriters run smoothly. They will appreciate your effort to define your content marketing strategy in an outline, so they will know your needs directly. Some fundamental elements to define are Your primary keyword(s), Secondary keywords, Optimal word length, and Terms to include in the title and meta description.
If you don´t provide the right information and cues based on keyword research, you may receive content that does not fully meet your expectations. You don't want to be in that kind of hit-or-miss engagement in your business. You can avoid that by conducting market research and designing a content strategy.
Provide a framework where your copywriters can easily understand  your expectations, brand details, procedure, SEO strategy, and desired writing style. This way, they will nail the job every time.
A style guide will set your content creators up for success and save you money, time, and work.
5. Promote content and focus on content distribution
A valuable piece of content will need adequate promotion to reach its audience. There are several methods to promote your content, but you need to constantly think about which approach to content distribution suits your needs better. You can always rely on these methods: Sharing across social media, Partnering with influencers, Running paid social media ads, Including an email newsletter, Email outreach, and Sharing on platforms such as Reddit.
6. Measuring Success
As you create your content strategy by setting goals, the door is wide open to determine the most adequate way to measure the impact and success of your content. With S.M.A.R.T. goals, you should get the big picture of your content's performance, as they are based on metrics.
It can be beneficial for your content strategy to set weekly periods to measure performance, bearing in mind the goals you set and recording the progress against the time-bound you established previously. Finally, a weekly check-in on performance also helps to change the strategy whenever your results demand it. 
Best Tips To Help Companies Build An Effective Content Marketing Strategy
Our template will help you to see results in your blog post, but now it's time for some of the best tips:
Develop Helpful, Nonpromotional Content
Setting the standards for your industry's relevant information is a must-do. There are tons of promotional content that, being honest, does not appeal to visitors, readers, and other potential customers. Somehow they´re wary of it. Instead, ensure that your content strategy focuses on developing functional, practical, and valuable, informative content that engages with your audience while simultaneously building trust in your brand. Your company will be seen as a trustworthy source within your industry and in customers' eyes.
Create Content That Meets Audiences Where They Are
There's no one-size-fits-all model that works for every company. Adopt a winning mindset: invest as much as you need to thoroughly understand the motivations, desires, and pain points of your loyal customers or target audience. Moving forward in your content strategy, put together some content formats that meet your audiences exactly where they are. How do you achieve this? Your content ideas must add value, prove themselves useful for troubleshooting and answer multiple frequently asked questions.
Know your target audience. Entertain them, educate them, and inspire them. 
Who are you trying to reach? What is the purpose of a piece of content? Once you are able to figure that out, develop different content formats. You´ll realize that you need to use an audience-based blend of different types of content. And remember: Your content strategy should always be based on a targeted approach. That´s another key to success. 
Consistently Publish Data-Driven Content
Google changes all the time. Engineers develop the algorithm to keep it permanently unpredictable. And being honest, that´s ok. It´s another challenge; of course, a challenge should always keep you motivated. But how are you going to face it? Although it can be a headache for some companies, the fact is that Google loves numbers. Hence, publish data-driven content as much as possible. This way, you´ll have higher chances to be on top of SERPs for FAQ. It´s a great opportunity to showcase your data, prove your brand´s success stories, explain detailedly the advantages of your merchandise, and transform potential buyers into existing customers.
Keep this in mind: in social media, numbers are solid, reliable evidence of your brand's success and status. This tip will boost the credibility of your services and products. 
Write About Your Market Category
This is what you know best. That´s why you´re part of the industry. Think about it: you always take a chance to share your expertise within your company with new hires or people you need to train and polish. Do the same when developing content. By ranking on the first page of a Google search, you can easily become one of the sharpest strategists in your industry.
Then write about what you know best: your market category. Do you want to talk about the current industry trends? Do you want to share how your company has evolved in the last five years or how you bravely faced the Covid-19 pandemic? Go ahead. Take content types at hand. Go the extra mile. You can even write e-books! Make sure to include your category in the headline. That´s what a good brand will do. 
Understand How Your Audience Consumes Fresh Content
This will optimize your content strategy. If you understand how your audience consumes fresh content, you can adapt your own content production to it. You will have to experiment with media mix or multiple content formats: publishing long-format content, shorter blog posts, YouTube e-Commerce vlogs, thoughtful leadership emails, social media posts, etc. Meet your audience just where they are waiting, hungry for content to add value to their customer experience.  
How to select an Agency to improve your Content Strategy?
When hiring an agency to handle your content marketing efforts, it´s crucial you consider its value proposition based on the following factors:
Case studies
Look at the case studies or the showcase of the agency you´re planning to hire. It will help you determine how effective their content strategy services are. Moreover, case studies demonstrate in which niche of the industry an agency has the expertise and how this will impact your brand. 
Depth of content strategy expertise
Your content marketers must have the expertise and the tools to evaluate your strategy and measure it according to your given goals. Don´t negotiate that. Their job should be strictly aligned with the way your content strategy is moving toward success. No weekly gaps, lack of result presentations, or ignoring KPIs. This amounts to wasting time and money.  Your chosen content strategy agency must lead your brand to success. 
Range of content marketing services
Brand identity demands content marketing efforts and services to achieve success. For this, agencies offer a variety of services. Make sure they master email marketing, social media marketing, and content auditing. 
Experience
An agency´s experience is evaluated through the content they have developed for other brands and companies. Be curious! Go to the websites they have revamped, check their impact on social media platforms, ask for their graphic design portfolios, request thoughtful leadership email templates, watch vlogs they have edited for other companies, and have in-depth conversations to check if they are really up-to-date with technology and SEO techniques. Do they have an effective content strategy? If an agency's background convinces you, you can do business with it. And most importantly: let them lead your brand to success. 
Summary
Crafting a documented strategy is essential to understand search engine insights and optimize your success metrics.
You can find the keys to shaping a successful content strategy in this article. Tips, details, and insights will give your e-commerce the tools to build a loyal audience, keep their attention on your brand, and provide them with the content they need to meet their needs.
Before working on your content strategies, make sure to include these content ideas in your market research.
After reading it, tell us:
How would you define your content marketing strategy?
Why should a business owner be aware of the importance of a content strategy?
Should a company's marketing team pay attention to the content strategy only at the beginning of creating content or at the end?
Was this article helpful?